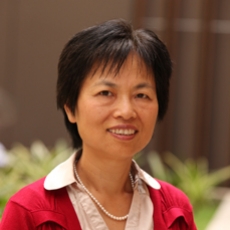 A UQ Business School academic who specialises in cross-cultural management and communication has been named 2011 Outstanding Researcher by the Association of Business Communication (ABC) and delivers her Outstanding Researcher Plenary Address at the ABC Conference in Hawaii in October, 2012.
Dr Yunxia Zhu, a Senior Lecturer in strategy, received the award at the ABC's international convention in Montreal. The judges said Dr Zhu's 'innovative' work had advanced knowledge in business, management and cross-cultural communication. Her interdisciplinary approach had also provided a basis for more integrated research across the fields of management, communication and cross-cultural studies.
In her plenary address, Dr Zhu said cross-cultural business communication was attracting growing interest from researchers but all too often studies were based on a Western perspective.
"In spite of the fact that the world has shifted from 'West leads East' to 'West meets East', our research approach is still largely Western oriented with only limited reference to local cultural contexts," she explained. She also outlined new approaches to overcome this.
Dr Zhu's other research interests include networking patterns, Chinese management theories based on Confucian wisdom and 'guanxi' or networking.
Professor Andrew Griffiths, Dean of UQ Business School, said: "Cross-cultural communication is an exciting field of research and one which could play a major role in promoting greater understanding. The award recognizes the importance of Yunxia's work and her contribution to advancing our knowledge."