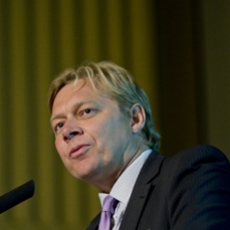 The new Head of The University of Queensland Business School says his vision is to establish the School's position as the leader in Australia and one of the best in the Asia Pacific region.
Professor Andrew Griffiths has been officially appointed as the Academic Dean and Head of School following a period of 12 months as acting Dean. He replaces Professor Iain Watson, who is now Executive Dean of UQ's Faculty of Business, Economics and Law.
Andrew's appointment follows the recent announcement that UQ Business School's AACSB International accreditation has been extended for another five years – highlighting its status as one of the world's best business schools. Andrew, who is globally renowned as an expert in corporate sustainability, has an academic career spanning over 20 years. He joined UQ Business School in 2005 following periods at Queensland University of Technology and the Australian Graduate School of Management in the Centre for Corporate Change.
Andrew was one of the first Business School academics to study the impact of climate change on businesses and strategies for adaptation and corporate sustainability. He leads the School's Sustainable Business Unit and is also Assistant Director of UQ's Global Change Institute. He has worked with national and international organisations on their sustainability strategies and is the author of four books.
Andrew was chosen from a number of high-calibre candidates interviewed by the selection committee, chaired by Professor Debbie Terry, Senior Deputy Vice-Chancellor. He will serve a three-year term in office.
Andrew said: "UQ Business School has been leading the way in business education since it was established 11 years ago. In recent years it has made remarkable progress in rising up the rankings and the work of my predecessor, Iain, has been a major factor in that success.
"Our MBA has been ranked number one in Australia and Asia Pacific, identifying it as the top MBA program outside of Europe and North America. I aim to build on that, to continue to position UQ Business School as the leading business school in Australia and one of the best in Asia Pacific. I believe the School has a key role to play in preparing businesses to meet the challenges of the future and develop the skills and the knowledge necessary to support a thriving modern economy."
Professor Iain Watson added: "Andrew has done an excellent job over the last 12 months as acting Dean of UQ Business School. I am very much looking forward to working with him as we continue to build the School's reputation as a leading global institution."