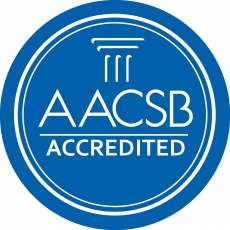 The University of Queensland Business School has had its AACSB International accreditation extended for the maximum period of five years – highlighting its status as one of the world's best business schools.
Accreditation by The Association to Advance Collegiate Schools of Business International is one of the highest honours a business school can receive. Only 666 institutions worldwide – less than five per cent of business schools – have earned this distinction.
UQ Business School was the first in Australia to be awarded full AACSB accreditation in 2003. One year later, it also became the first to receive dual accreditation from AACSB and EQUIS, the European accrediting body.
"It takes a great deal of commitment and determination to earn and maintain AACSB Accreditation," said Robert D. Reid, Executive Vice President and Chief Accreditation Officer of AACSB International. "Business schools must not only meet specific standards of excellence, but their deans, faculty and professional staff must make a commitment to ongoing continuous improvement to ensure that the institution will continue to deliver the highest quality of education to students."
Professor Andrew Griffiths, Dean of UQ Business School, said: "AACSB accreditation underlines our position as part of a global elite of business schools. UQ Business School led the way in Australia by becoming the first to gain AACSB approval ten years ago and our re-accreditation demonstrates that we are continuing to maintain and improve our standards."