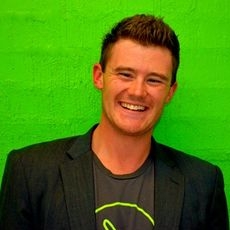 In an Australian first, 22-year-old entrepreneur Mick Spencer has secured a spot alongside Sir Richard Branson at the UQ Business School lunch event, NEXT? The Future of Business Q&A.
Mr Spencer will join Sir Richard and four other leading business thinkers to discuss the future of global business at the event on Thursday, 9 May 2013.
The Canberra entrepreneur has secured the spot in the face of competition from professionals, business owners and students from around Australia, all of whom were nominated for the position via LinkedIn in the first Australian initiative of its type.
Mr Spencer is the founder, sole director and owner of OnTheGo, which sells custom-branded sports gear to businesses and teams around Australia and which is rapidly expanding into Asia and the United States.
"I started my business in my parents' shed three years ago with $150 in my back pocket. Since then it has grown by 300% and we have just secured a significant number of national clients. We have a growing staff in Australia and several teams already established in Hong Kong and China." Mr Spencer said.
"Our growth means that I am now able to work on establishing the charitable foundation I had always planned to associate with this business. We are already supplying sporting goods and apparel to communities in the Asia Pacific. This is really the jewel in the crown for me and something I'm passionate about expanding to other regions in the future."
Mr Spencer, who has been named as an Anthill Magazine Top 30 Under 30 Entrepreneur several times, has long held respect for Sir Richard. He will now not only have the opportunity to meet his role model but also sit alongside him on a panel of business experts.
"I received an email about the UQ Business School event – NEXT? The Future of Business Q&A and I knew straight away that I had to be a part of this event. I didn't think my chances were too high, so I'm thrilled that I've been selected," Mr Spencer added.
"I always knew I'd meet Sir Richard Branson, it's been a longstanding gut feeling but I never in my wildest dreams thought it would be on stage with him in front of 1,500 people at a professional event answering questions about the future of business."
The other three panellists are Chris Cameron, Co-owner of Rockcote Enterprises Pty Ltd, futurist Tim Longhurst and Professor Andrew Griffiths, Dean of UQ Business School. Questions to the panel have been submitted by the business community via the nextquestion.business.uq.edu.au website. The five most thought provoking questions have been chosen and these will be posed to the panel on the day.
Up to 1,500 people will attend NEXT? The Future of Business Q&A from the public and private sector, including Government representatives, students from Brisbane's key high schools and UQ Business School alumni.
Tickets are available from nextquestion.business.uq.edu.au