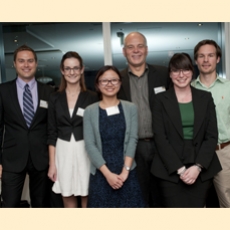 The future of healthcare delivery, levels of innovation within collaborative and project-based industries, and a youth's motivations to engage in controversial leisure activities were amongst the winning presentations at the 15th annual UQ Business School Research Students' Colloquium.
The Colloquium, held on Friday, 19 July at the UQ Business School Executive Education campus, showcased the research ideas and thesis plans of forty Honours and PhD students from the Business School.
Each student was judged based on the quality of their content, plus overall delivery of their presentation and the following students received the 'Best Presentation' awards within their category:
Jenny Xie, awarded in the Bachelor of Commerce (Honours) category for her abstract, "Variance risk premia and regime shifts: Evidence from stock and bond markets."
Alison Joubert, awarded in the Bachelor of Business Management (Honours) category for her abstract, "Examining young people's motivations to engage in controversial leisure consumption practices."
James Brotchie, awarded in the Research Higher Degree (RHD) Accounting, BIS, or Finance cluster category for his abstract, "Throwing in the towel: Optimal voluntary liquidation policy"
Jerad Ford and Teegan Green: Joint Winners in the RHD Management, Marketing or Strategy cluster category for their papers:
"Innovation and Risk: Collaboration in a megaproject industry" (Jerad)
"Telemedicine as a transformative separated service: A futures-oriented, multi-disciplinary agenda for managing trust, service failure and recovery in health care" (Teegan)
Other subjects presented at the Research Students' Colloquium included innovation in the practice of human resource management, the effects of socially-responsible marketing strategies on consumer behaviour, models of 'bank risk' and a comparison of conventional and non-conventional banking systems, and branded entertainment versus traditional advertising methods and the level of customer engagement.
Professor Robert Faff, Director of Research at UQ Business School, said: "The Research Colloquium gives our students a fantastic opportunity to receive constructive feedback from academics and their peers on their research topics. It also enables them to showcase their work and gain recognition for their dedication and diligence. We congratulate all of the students that participated in this year's Colloquium, and give special recognition to those who were awarded on the evening."
UQ Business School has a strong reputation for being one of the country's top institutions for business-related research. In the recent 'Excellence in Research for Australia' (ERA) rankings. UQ Business School received the top rating of 5 (well above world standard) for research in business and management, and finance. An ERA rating of 4 (above world standard) was also received for research produced in accounting and marketing.
In the last six years UQ Business School has also generated over $5 million in competitive research funding (Australian Research Council and other funds), published over 1,000 refereed journal articles, book chapters, books and refereed conference papers.