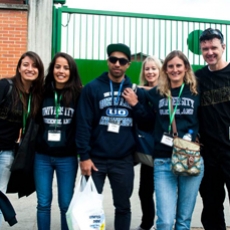 Students from UQ Business School have been working in some of the most dangerous areas in Colombia to show communities how entrepreneurship can help lead them out of poverty.
A team of four students, led by Senior Lecturer Dr Lance Newey, ventured into slums in the Colombian capital Bogota to provide training for 32 would-be entrepreneurs with little or no formal education.
Anne-Sara Budowniczy from France, Michelle Marshall from the USA, Francia Mazzo from Chile and Christopher Chapman from Australia are all students on the Entrepreneurship and New Ventures course, which is run by Dr Newey and designed for those interested in starting up new businesses or social enterprises.
The project was part of their course but also aimed to encourage entrepreneurship in Colombia, where years of armed conflict has created a major humanitarian crisis. Over 4 million people have been displaced and the country has over 11,000 child soldiers.
Speaking about the transformative effect of their experience at teaching in these difficult circumstances, Anne-Sara Budowniczy described the experience as 'life changing' while Michelle Marshall added: "Travelling to the marginalized community of Altos de Cazuca made the idea of half the world living on $2 a day much more tangible. Combining people's natural passion with training and skills is the key to them lifting themselves out of poverty."
The UQ Business School team worked with Javeriana University in Bogota and the local not-for-profit organisation Ahmsa, which is dedicated to alleviating poverty and creating economic opportunities and which provided safe access for the students to the slum areas.
The four-day course culminated in the Colombian trainees presenting a Dragons Den-style pitch to a judging panel of local business people and academics, with the winners receiving their prizes at an awards dinner.
As a result of the project, Javeriana University has decided to adopt the Entrepreneurship and New Ventures course to help increase its social impact. Dr Newey will mentor staff delivering the course.
Christopher Chapman described the visit to Bogota as 'an awesome experience'. "This has been about working together to share ideas and stimulate a new and different approach to how we reduce the imbalances that exist within our societies," he said.
Francia Mazzo added: "Through this project, I got a reminder of our responsibility as professionals to build opportunities for everyone, creating just and fair countries, where our decisions are beyond economic impact. We must be conscious that they can directly affect the lives of a family. I think that an experience like this is needed in the training of all leaders"
Dr Newey said the project demonstrated that business schools could be an important driver of social change. "We take leading-edge research and allow it to affect people's lives by doing on-the-ground field trips like this. We trained our students to teach people with difficult personal and community circumstances how social entrepreneurship can unlock new energy within individuals and communities.
"During their studies, we show our students the power of what they are being taught by directly connecting them with people's hearts and minds. This is about changing the course of lives in communities that have almost lost hope."
View a video on the project developed by the Ahmsa organisation