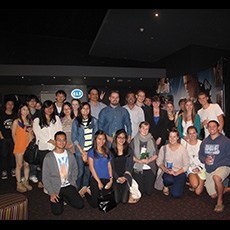 Ever wanted an inside look at the life and times of one of history's most prolific and innovative new product entrepreneurs? Recently, 40 students and staff from the UQ Business School Marketing cluster did just that.
Students and staff attended the opening night of the much-awaited release of the Steve Jobs' bio-pic at Indooroopilly Event Cinemas on 29 August. This movie provided a portrayal of Jobs' innovations, building Apple from a small town backyard operation to global giant. The movie predominantly featured the product development process experienced by Jobs and his colleagues for the Apple Mac computer, from the first iteration to its modern day form.
The idea for the Jobs movie event, developed and organised for marketing students by UQ Business School tutor and PhD Candidate, Teegan Green, was an exciting movie tie-in and the first of its kind in the course. 
Part of the student assessment for the course is to develop a substantially radical and innovative new product or service development design and test it with potential customers. Teegan said that students found the movie inspiring and as its release on the big screen was timely to stimulate ideas amongst students for their own new product or service development proposals.
Marketing student and attendee, Elena Berridge, said: "As a marketing student, I was really excited when I heard about the opportunity to see the movie Jobs. What he accomplished in his life is awe inspiring and was really relevant to the course, and in particular my group project which is currently underway. I found the night to be really rewarding and I am so glad I took time out to see the film with my fellow peers, tutors and lecturer."
Course coordinator and lecturer, Associate Professor Jay Weerawardena, said: "Our new product management courses, consistent with UQ Business School objectives, are aimed at developing hands-on student skills enriched with theory in new product development. The movie nicely fits with this objective providing valuable insights about the genius who was behind many products that changed our lives forever."
This exciting event was attended by Associate Professor Jay Weerawardena, Teegan Green and Naseer Choudhry from the MKTG2505 teaching team, along with their MKTG2505 students.