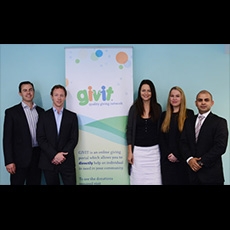 A Brisbane charity is pursuing plans for growth after receiving advice and support from UQ Business School MBA students.
GIVIT – which runs an online service allowing people with unwanted goods to donate them to those in need – is implementing a corporate funding strategy devised by the students.
The project was part of the School's Social Economic Engagement Program (SEEP), which allows MBA students to develop their leadership capability by working with not-for-profit organisations.
GIVIT is run by volunteers and has grown rapidly since it was established in 2009 by Juliette Wright, and with demand for its services far exceeding the funding available, Juliette contacted UQ Business School for help to create a corporate funding strategy.
A team of four MBA students - Bridget Delahunty, Daniel Yates, Harman Jolly and Andrew McGhee – spent five months working on the project before presenting their recommendations to the GIVIT board.
SEEP program director Associate Professor Neil Paulsen said GIVIT's growth aspirations were limited by its funding.
"The group explored two key options - a corporate sponsorship campaign and a grassroots fundraising campaign," Associate Professor Neil Paulsen said.
"The board was extremely impressed with the work and some of the recommendations have been implemented immediately, in particular employing a fundraising manager to focus on corporate fundraising to allow Juliette to focus on her role as CEO."
Juliette Wright said UQ Business School had been supportive of GIVIT's mission.
"While we have been working on the challenge together, GIVIT's future has been positively influenced and it is delivering a clear strategic direction for us," she said.
Other current SEEP projects include work for Y-Care, Joining Hands, Mummy's Wish, Yalari, Lily House and The Edmund Rice Foundation.
Dr Paulsen added: "Working at the grass roots level, students gain invaluable knowledge and experience to understand how the 'non-for-profit' world operates.
"The SEEP program challenges students to develop their leadership capability while giving something back to the community," he said.