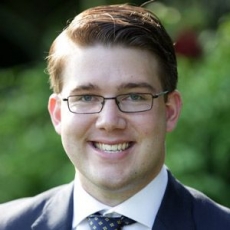 Andrew Barnes, a Business Management and Economics graduate (with first class honours) who continues to study at UQ was recently named by The Governor of Queensland, Her Excellency Dr Penelope Wensley, AC.
The 24-year-old Cannon Hill resident is undertaking a PhD through the Business School, which he intends to complete before beginning a Master of Science in learning and technology through his Rhodes Scholarship, at the University of Oxford.
"I'm keen to leverage technology to deliver lessons tailored to every individual in class," Andrew said.
Andrew said the scholarship to study at Oxford would enhance his postgraduate study into technology and education.
"I have stepped foot on the grounds of Oxford University while on exchange in the UK at Nottingham University," Andrew said.
"The chance to walk through Oxford again to study is very exciting."
Andrew said his family and UQ PhD supervisors had encouraged him to pursue the scholarship.
UQ President and Vice-Chancellor Professor Peter Høj congratulated Andrew, who he said represented the cream of both the future and the heritage of UQ.
"Andrew is specialising in one of the most exciting frontiers of modern education, technology-assisted learning, while also following the tradition of almost 100 Rhodes Scholars from UQ," Professor Høj said.
"Technology-assisted learning is revolutionising how people learn and share knowledge, particularly with the rise of Massive Online Open Courses (MOOCs) and the related area of learning analytics.
"As a young man who combines a passion for research with his own e-learning business (he is managing director of Aduro), Andrew has the makings of someone who will contribute to global understanding of how people learn.
"I wish him the very best for his future – and he will be welcome back at UQ, any time!"
Professor Høj said Andrew's award was also another strong endorsement of UQ Business School, which has a MBA (Master of Business Administration) that is ranked as the best outside Europe and North America (14th best in the world) by The Economist, and as the best in Australia by The Australian Financial Review BOSS MBA survey.
Since the first Australian Rhodes Scholars began at Oxford almost a century ago, almost 80 per cent of the Queensland Rhodes Scholars have been UQ graduates.
Background to Rhodes Scholarships
Rhodes Scholarships, founded in 1902 under the will of the late Cecil John Rhodes, are tenable at the University of Oxford for an initial two years, with the possibility of a third. Candidates must be aged between 18 and 25 years and citizens of the country from which they are selected.
Scholarships are assigned annually in Australia, Canada, India, Jamaica, New Zealand, Zambia, Zimbabwe, South Africa, the United States, Germany, British Caribbean, Malaysia, Singapore, Pakistan, Kenya and Hong Kong.
Australia receives nine scholarships – one for each state and three for Australia-at-large.
Since the scheme began, about 500 Rhodes Scholars have been selected. Women became eligible in 1972.
The first Rhodes Scholarship awarded in Queensland was in 1904 by Arthur Stanley Roe, five years before an Act of Parliament was passed to establish The University of Queensland.
The qualities set out by the late Cecil Rhodes for those seeking Rhodes Scholarships include academic and intellectual excellence, integrity of character, respect for fellow beings and a capacity for leadership. Sporting prowess is an advantage, but not a necessity. http://www.uq.edu.au/about/rhodes