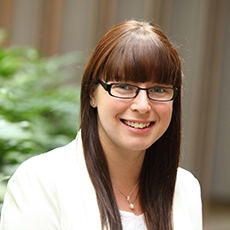 A student from The University of Queensland Business School is one of just 12 women selected from thousands of entrants around the globe for a prestigious international scholarship.
Teegan Green, who is studying for a PhD in Management and Marketing, has been named as a 2013 Jane M. Klausman Young Woman in Business by Zonta International, an organisation which helps women overcome gender barriers in business.
Established in New York in 1919, Zonta International has over 1,200 clubs around the world including around 100 in Australia.
The Jane M. Klausman scholarship program helps women to pursue undergraduate and master's degrees in business management.
Teegan will receive a total of $8,000 towards the cost of completing her studies.
The scholarship is the latest in a string of accolades for the former secondary school teacher. She won the Three Minute Thesis (3MT™) competition for honours students last year with a summary of her research work, and this year was joint winner of an award at the annual UQ Business School Research Students' Colloquium for best Management PhD Presentation, in addition to a number of previous awards and scholarships including the University Medal in 2012.
Teegan has two dual degrees from The University of Queensland, having completed a Bachelor of Arts (Japanese and English) and a Bachelor of Education (Secondary) in 2008, and a Bachelor of Arts (Mandarin Chinese) and Bachelor of Business Management (Marketing) in 2011.
She was awarded first class honours in Business Management in 2012, and prior to her postgraduate studies she spent seven years teaching at private secondary schools in Indooroopilly and the CBD, as well as corporate internships in industry including the Brisbane City Council and Queensland Urban Utilities.
Teegan said of the latest scholarship: "This is a very exciting opportunity and one that I am sure I would not have achieved had it not been for the support I have received throughout my studies from UQ Business School.
"Part of the application was for applicants to list their academic achievements. I was well placed because of the many wonderful opportunities that I have been given by the School."
Professor Andrew Griffiths, Dean of UQ Business School said: "Winning this international scholarship in the face of tough global competition is an impressive achievement. It is well deserved recognition for all the hard work and enthusiasm that Teegan puts into her research. We wish her well with her future studies."