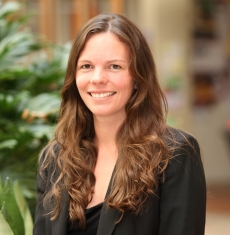 A UQ Business School PhD student is the recent recipient of a prestigious international bursary from Erasmus University in Rotterdam, The Netherlands, and the Society for the Advancement of Management Studies.
Cristyn Meath, who was awarded the PhD bursary for her research into the assessment of business dependence on natural capital, will now travel to Erasmus University to attend a symposium on 'Planetary Boundaries,' hosted by the Corporate Eco-Transformation Centre.
The Planetary Boundaries framework is utilised as the main methodology for the Action 2020 plan launched by the World Business Council for Sustainable Development at the World Economic Forum in November 2013.
Cristyn said that is a privilege to be attending the Planetary Boundaries workshop. "The event brings together top management academics and business leaders from around the world to set the research agenda for action on business sustainability.
"The workshop also reflects great progress in the understanding of business sustainability from a scientific viewpoint which is critical to addressing global sustainability challenges," she said.
UQ Business School Senior Lecturer in Sustainability, Dr Martina Linnenluecke, is thrilled that Cristyn's research has gained such widespread acknowledgement within the first year of her being in the School's PhD program.
"It is wonderful to see Cristyn's research receive international interest and recognition. Given the significant environmental changes we are witnessing, research in her area is of utmost importance.
"Companies can re-evaluate their current strategies to avoid practices that are wasteful and destructive for the environment while improving their competitiveness. I congratulate her on this great achievement," she said.