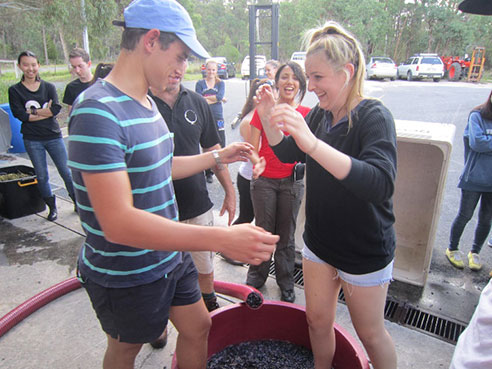 Fifty UQ Business School tourism students have discovered the science and art of winemaking during a field trip to Stanthorpe's Queensland College of Wine Tourism (QCWT).
Now in its sixth year, the Wine Immersion Program forms part of the Business School's undergraduate Food and Beverage Management course and postgraduate Designing Food and Beverage Experiences course.
The program is designed to give students an insight into viticulture, and also provide the opportunity to earn the Wine and Spirit Educational Trust (WSET) Certificate 1, an industry recognised qualification.
UQ Business School student Izzy Wang, who attended the program in April, said that as a result of the Wine Immersion trip she now wants to pursue the WSET Certificate 2 and further her wine and spirit education. 
"The program was an interactive learning experience that broadened my understanding about the wine industry. It provided me with the opportunity to gain a more practical knowledge, and also stimulated my interest in the wine industry" she said. 
Peter Orr, Wine and Viticulture Training Manager at QCWT was impressed with the UQ Business School tourism students that attended the program, and said their 100% pass rate results set a high benchmark for future students to aspire to. 
"It is certainly an outstanding achievement and a reflection on the quality of students who attended the program," he said.
Student Guangchuan Leon Li reflected on the highlights of taking part participating in the program this year and said the experience of being able to physically take part in the wine making process from grape picking to fermentation.
"This unique experience and the WSET certificate can help us greatly in our future careers, especially in the hospitality industry."
Course coordinator Dr Richard Robinson said educational partnerships like the Wine Immersion Program allows students to enjoy experiential, accelerated and deeper learning.
"Students were taken through the process of first picking, crushing, and fermenting grapes; then testing, tasting, and matching wine to food. These experiences are a natural complement to classroom theory-driven learning, and more than this, they value-add to the overall UQ student experience," Dr Robinson said.
Find out more about the undergraduate Food and Beverage Management course
Find out more about the postgraduate Designing Food and Beverages Experiences course