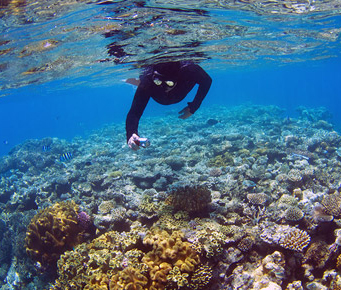 Business School postgraduate student Javier Salvatierre has completed new research into the impact of the Abbot Point Port development on an Australian treasure, the Great Barrier Reef.
The Abbot Point Port development is one of Australia's most significant emerging bulk ports and is the most northerly deep-water coal port in Australia. The development entails a major transformation into a global port precinct.
As part of his Master's thesis, Javier specifically looked at the impact the development will have on the tourism market's 'image perceptions' and 'visitation intentions'.
Within the study, tourists were asked about their image perceptions of the Great Barrier Reef before and after a presentation about the Abbott Point development.
Findings showed that the news of the development negatively influenced tourists' perceptions of the physical features of the reef, the protection and conservation efforts of governing bodies, and the kinds of activities linked to the reef experience.
Despite the negative findings, tourists had the same desire to visit the Great Barrier Reef as they did prior to being exposed to The Abbot Point Port development, however with a greater sense of urgency.
Thesis supervisor and expert in image recovery, Dr Gabby Walters, said that while the controversy surrounding the development and its environmental impact has altered tourist perceptions, it is encouraging to hear that tourists will continue to visit the natural icon.
"It is important for destination marketers to have a clear understanding of how this is influencing tourist perceptions and visitation intentions."
Javier Salvatierre said that the study demonstrated that tourists have a limited understanding of the specifics behind the Abbott Point Port Development and its impact on the Great Barrier Reef.
"There is an opportunity for stakeholders involved in this project to present fact-driven information that will alleviate the negative media reports currently influencing the tourism markets' perceptions of this natural icon."