Over a weekend in August 120 young aspiring business leaders and change-makers from across Brisbane gathered at the IMPACT Youth Social Enterprise Conference to celebrate the future of social enterprise.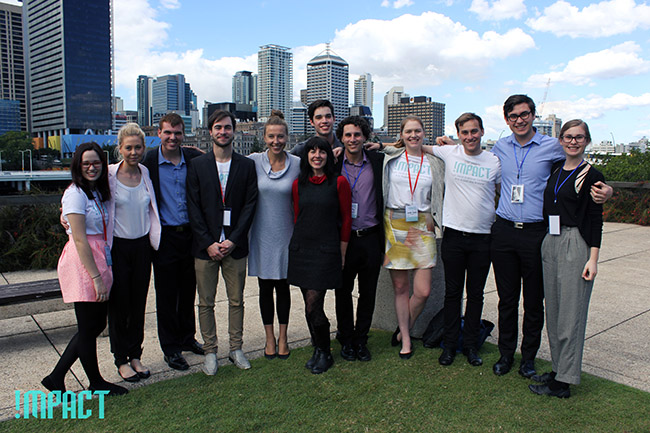 The conference bought together business professionals, social entrepreneurs, social activists and students for a weekend of fresh ideas to shape the future of social business in Australia.
Social enterprise was the focus throughout the conference which featured a series of presentations from the CEOs and founders of a selection of Australia's leading social enterprises, including Daniel Flynn from Thankyou Group, Elliot Costello of Y Generation Against Poverty, and Steve Williams from SEED Parks and Property Maintenance and the Queensland Social Enterprise Council.
Impressive ideas were shared by the students gathered who had crafted, designed, and pitched social enterprise concepts over the course of the weekend.
A number of these ideas have continued to develop following the conference, and are receiving support to start up, including an enterprise supplying sanitary pads to homeless women, and an enterprise that sells designer gumboots to raise money and awareness for mental health.
UQ Business School marketing lecturer, Dr Nicole Hartley, said that the conference was initiated and run by students, for students.
"The students really embraced the themes of the conference and there was a lot of passion and excitement in the room over the three days. This event really showcased our student's commitment and engagement with social enterprise and offered them amazing opportunities to shape ideas that could go onto be very successful social enterprise endeavours" she said.
UQ Business School has been proud to support IMPACT by sponsoring students to attend the conference.
Dr Nicole Hartley, and strategy lecturer, Dr Anna Krzeminska offered their support by acting as key mentors to judge and coach teams through the pitching process.
This process resulted in the winning team being sponsored to kickstart their social enterprise business idea.