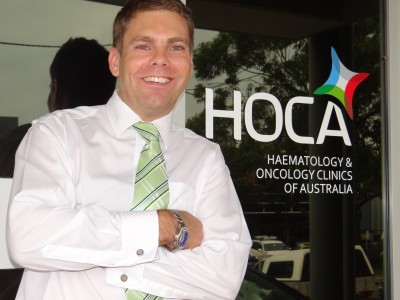 What did you want to be when you were 10 years old? Is it something you ever thought you would be doing?
I wanted to be a rock star and play the drums. I had no idea about my professional pathway until I was halfway through an IT degree. I started out as a programmer for government, delivering database applications, so my career was focused on technology.
Around five years ago, I decided that I wanted to develop more of a business focus then joined the UQ Business School MBA program in 2010. It certainly opened doors for me and gave me the business knowledge I needed to confidently take on a different career path. I am now involved in business strategy, still maintaining links to IT, but making sure there is good balance between the two.
Could you describe your current position?
I have been with Icon Cancer Care for six months. We are a growing business with five day hospitals and around 350 staff and are one of Australia's largest private providers of cancer care.
My role is to facilitate the organisation's strategy – assisting with planning our next steps – and ensuring that this is aligned with execution and the overall performance of the business. I also look after the portfolio of projects and have to make sure these adhere closely to our strategic goals.
One of our key projects is the construction of a day hospital in Townsville, which will allow us to reach out to patients in remote areas of North Queensland and provide them with dedicated cancer care services.
Another – key strategic project involves rebranding the business. We are currently in the process of changing our name across a series of brands - HOCA, QHOG and Tennyson Infusion centre - to Icon Cancer Care. This is a great opportunity for the business to really establish its organizational culture and a new identity within the market.
What is the most challenging part of your role?
The challenge in my current role is to be able to prioritise and make sure we are consistently delivering a high level of value and quality for our patients. There are lots of opportunities open to us but we need to make sure we choose the right ones, and also that we are not overextending ourselves.
To ensure we make the right decisions, we have a number of tools that we use on larger projects, such as building a business case, but we also take into account common sense and experience when making decisions, which is just as important as having the right tools. Focused leadership across the team is also important to prioritisation and ensuring we keep in line with the overall strategy.
What is your proudest career achievement?
I have successfully delivered a number of projects throughout my career which have made a big difference to the business – transformational projects. Some more challenging than others – sometimes it's about having the right process in place, something very technical, in other cases it's about general change management. IT projects have quite a high failure rate so when something gets through to the final stage, it's always rewarding.
How does the future look for your role?
I would like to continue working in strategy, whether it's in business or IT - the health industry is putting a lot of focus on strategy and performance at the moment. Health is an interesting sector to be a part of - it's a constant battle between delivering the best services for patients and keeping an eye on costs.
What key piece of advice would you give anyone wanting to do business strategy?
I would say that you have to focus on execution as much as you do on strategy. Lots of companies fail to put their strategy into practice, so start with projects and observe how you can manage change successfully. Organisational culture really does play an important role in strategy as well. You need to understand these aspects before being able to tackle strategy successfully.
UQ Business School believes in 'Challenging the future'. For you, what will be the most challenging business topic in the next ten years?
Technology is key and will change the way we treat patients, however we need to be careful how we use it. There are lots of initiatives around e-health and TeleHealth but lots of risks as well, especially for an industry which does not have an abundance of IT skills. Medical teams generally have limited IT training, so we need to ensure that any changes are fully understood and deliver the desired benefits to patients and medical teams.
What is your most positive memory of your time at UQ Business School?
The final year of the MBA was the highlight for me. When I started to put all the pieces together and make use of the different subjects, particularly the final subject which was all about having an integrated approach to strategy.
What impact has the School had on the way you operate or think about business?
The beauty of the MBA is that you develop broad organisational knowledge and it helps you frame all the different aspects to a business. It gives you perspectives on each area, and tools you can apply. It has had a massive impact for me. I went from working in IT to a business strategy role in the health sector - it was a fantastic opportunity.
Want to have the spotlight in the next Alumni e-news? We'd love to hear what you've been up to since graduating from UQ Business School. Share your story with us