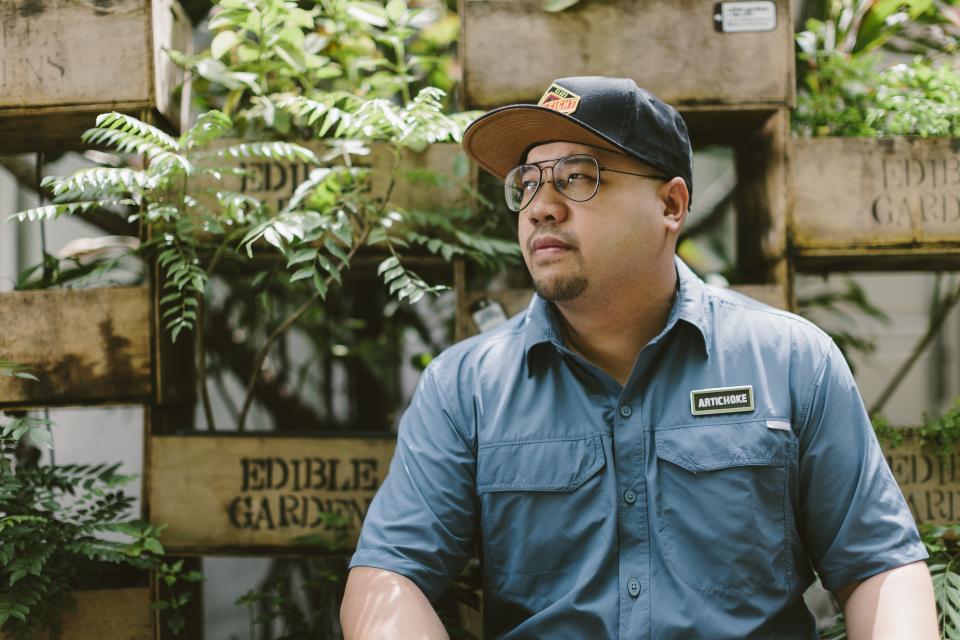 What did you want to be when you were 10 years old? Is the career you're in now something you ever thought you would be doing?
Ever since I was young I always knew I wanted to be a chef. For most people, they go directly to culinary school, but I always wanted to do more than that, because I knew it would come in handy one day. I thought lets go down the road of being a chef but let's take a different path, which was going to university and getting a degree. Cooking is something you can learn on the job, but there are a lot of management issues you can't learn unless you are in the job for a long period of time. The reason I did a Tourism degree was that I thought it would give me the ability to move up the ranks if I was to work in hotels etc. I never thought I would open my own restaurant, I always thought I would be working for someone else.
Where are you working now? Describe your current role and what you do.
I am the restaurant owner and chef at Artichoke, and also own a bakery called Overdoughs. Ever since opening the restaurant I've ended up doing the jobs I didn't realise I'd signed up for! No two days are the same - it's challenging, it's interesting, and there is a lot of administration to do. The administration is not what I envisioned doing at the start, naturally I assumed I'd be the guy cooking. I have a very good team and I am here to make sure their jobs are stable, and that whatever they need to do their jobs, they get. I am there every night inside the kitchen when the food is being cooked, but during the day I am doing the admin. My role flips between being within a micro and macro environment.
What is the best part of your job?
The best part of my job is seeing that I've built a successful business, and seeing my staff have a good workplace. For me that is the greatest measure of success. As a restaurant in Singapore, it is not very common to be open five and a half days a week. Most restaurants are open six or seven days a week, due to the rent. But for us, we've managed to be open five and a half days since the beginning, which means that our staff have a good work/life balance.
What is the most challenging aspect of your role?
I think the most challenging part is just the level of multitasking required. Before your mind even finishes with one issue, another two issues come at you and they both require immediate attention. So do you put the first issue on hold and drag it out more, or do you put the next two issues on hold. The level of 'fire-fighting' is the most challenging aspect.
Can you give us a bit of an overview of your career journey? How did you come to be where you are in your career today?
I finished my Bachelor's degree in Hotel and Tourism Management, which really taught me so much about the industry. After that, I thought I still wanted to learn something more. I considered all sorts of areas, such as financial management, accounting, and marketing. I decided on marketing because it was something that I took a particular interest in.
During the coursework in my Master's degree in Marketing, I decided that I liked it so much I extended it into an advanced Master's where you do a thesis. I found two lecturers, one from Tourism (Richard Robinson) and one from Marketing (Alistair Tombs), who both co-supervised my thesis. After I graduated, I stayed on to help Richard Robinson with research and other industry consultancy projects. After this I decided to stay on again for another year and began tutoring - I was one of those guys who never left university after they finished! After that year, I started to get itchy feet and couldn't sit still. I needed to do something a bit impulsive and get back out there. Before all of this, I was actually cooking in kitchens in Brisbane to pay my way through my Bachelor's degree and felt like I wanted to get back there. So I thought 'what's the most impulsive thing that I can do right now' and I decided to open a restaurant!
What is your proudest career achievement?
I think it's the fact that from nothing we've built something, and now this something comprises great people - both staff and customers. We have created a great environment, and a great brand. That's what I learnt from Frank Alpert – creating a solid brand that people get attached to. To a large degree, that's what we have done over here. We have built up a bit of a cult following without any need for advertising or promotions. That would be one of my proudest achievements.
What mentor or inspirational figure has guided or influenced your career/life?
I have looked up to Richard Robinson since day one. He had the same kind of experience that I was after. He was my eventual goal - he was an executive chef turned lecturer. Ever since, I've taken the opportunity to get to know him. He was my thesis supervisor, I did some tutoring for him and we ran a few wine immersion tours for the students in his course. He has given me a lot of advice and we have built a solid relationship.
How have your UQ Business School degrees helped you in your career?
Completing a Bachelor's degree and a Master's degree has done two things for me as a chef and restaurant owner. One, it has equipped me with essential skills that I still use every day. You underestimate the kind of attributes that are required to manage a very fast moving and high pressure business. Going through those two courses at UQ Business School definitely gave me those skills and on top of that, the fact I grew a little bit older whilst I was doing those courses, instead of rushing out earlier gave me a bit more maturity. The maturity was important because had I done it a few years earlier, I may not have been so successful. It gave me more calmness, and a bit more perspective. It bought me a bit of time to grow up.
What's your most positive memory of your time at UQ Business School?
It would have to be giving back through tutoring. When I was in the first year of my Master's degree, Alistair Tombs was one of my lecturers. I went in and spoke with him; he looked at my CV, and asked if I wanted to do some tutoring work. He was the course-coordinator for the introduction to marketing course, so I tutored that course for roughly five semesters.
What piece of advice would you give to anyone wanting to start their own business?
I would say very simply not to underestimate the value of education. Everything that I have learned at UQ Business School has come back and put me where I am today. Some people don't realise how much is involved in running a restaurant. My job is not just putting something in a pan – what I have learned in my courses, like operations management and HR, how to treat your staff etc., is what I do every day. There is so much more to it, and had I not had the value or benefit of my education, my mind would not have been developed to deal with the things that I deal with on a daily basis.
The second piece of advice I would give to someone wanting to specifically start a restaurant, or service business, is to not underestimate the value of being a seasoned consumer yourself. My team are either front of house (service staff) or chefs. I encourage my staff to go to nice restaurants, because I believe the only way they can be good service providers is if they are first equal service consumers. Invest in yourself, or find a company that will invest in you.
Here, we have an annual company trip, where we close the restaurant for a week and the whole team goes overseas. This year 20 of us went to Vietnam, last year 16 of us went to Sydney and the year prior we went to Bangkok. This allows for team bonding and also exposes them to new experiences so they can come back and be a better service provider.
Want to have the spotlight in the next Alumni e-news? We'd love to hear what you've been up to since graduating from UQ Business School. Share your story with us