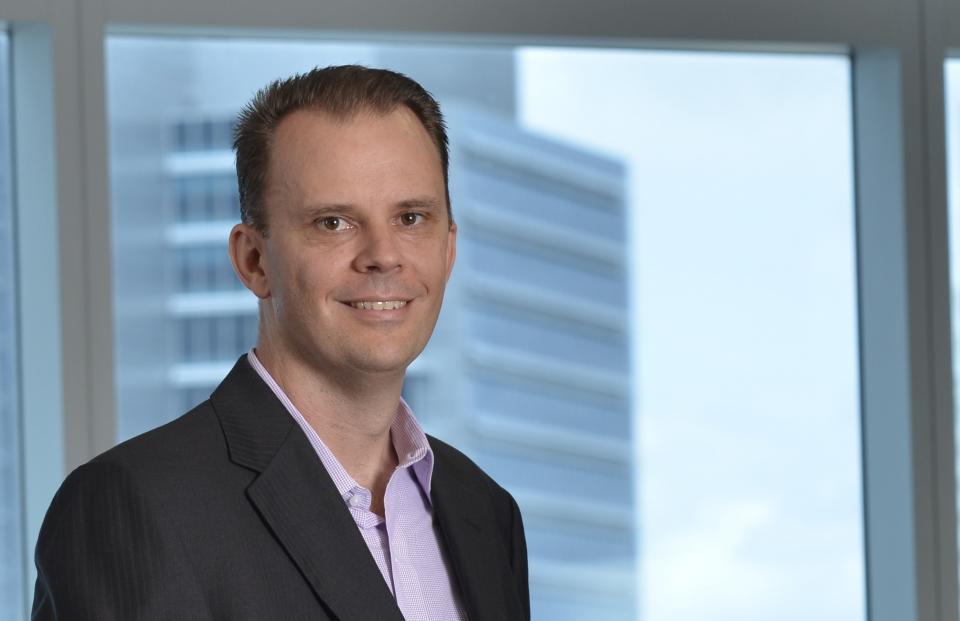 What did you want to be when you were 10 years old? Is the career you're in now something you ever thought you would be doing?
At school I wanted to be an air force pilot. I joined the military during the time when the movie 'Top Gun' had made everyone want to be a fighter pilot. However, I quickly realised that free thinkers and people who challenged status quo didn't really suit a military environment. I was a bad 'cultural fit'.
I ended up in manufacturing and supply chain more by accident than by plan. It became a mesh for my skillset – the ability to solve problems analytically and think laterally to reduce complexity. That's important because supply chain is about connecting the dots and making it work by seeing the big picture.
Could you give us details about your career history? How/where did you start?
After leaving the Australian Defence Forces Academy, I studied Chemical Engineering. As part of the course I spent a year and a half in industry working for Sydney Water, Pasminco (Zinc & Lead), BHP, and Shell Refining. On graduating, I joined Schlumberger Wireline as an oilfield engineer and worked offshore in Indonesia and Bass Strait. After averaging 28 days a month on an offshore oil rig for a while, I realised it was time for a change.
Then, through my network, I found out that the consumer goods company SC Johnson needed an engineer to work on contract. That was the start of a 13-year career with the company during which time I completed postings in Australia, Japan, UK and Argentina, as well as travelling to the US, Asia and elsewhere. I was more interested in life experiences than career progression, so I took advantage of any opportunity that arose to see the world.
Towards the end of my last assignment with SC Johnson in the UK, I decided to return to Australia. I'd long had a vision of doing an MBA and UQ Business School appealed to me for a number of reasons; UQ had a highly ranked program, I could complete it in a year - taking time off is expensive, and I wanted a generalist MBA.
I wasn't sure what would happen after the degree but, through the MBA, I met someone who worked at QGC who put me in contact with a hiring manager. We had a coffee and it evolved into a role and then a career, which demonstrates the importance of networks! After a year at QGC there was a need for someone with supply chain expertise and that was my background. The next thing I knew, I was running it for them.
Could you please describe your current position?
I am head of supply chain at QGC, which is a leading natural gas explorer and producer focused on establishing the world's first project to convert gas from coal seams into liquefied natural gas - Queensland Curtis LNG (QCLNG). Queensland Curtis LNG is one of Australia's largest capital infrastructure projects, involving US$20.4 billion of investment from 2010-14. So, essentially I am responsible for building the supply chain organisation to support the operation of a multi-billion dollar start-up company. We are about a year into it at the moment. We started with very little but will soon have an operating, efficient supply chain organisation, covering a geography that is bigger than Great Britain.
The principle difference between the oil & gas industry and the consumer goods sector, where I worked previously, is that in oil & gas every figure has extra zeros on it - so any delay can have significant consequences. Supply chain isn't really a core business element but something that you have to do well in order to assure the delivery of project, production, and drilling objectives.
In this business I've had to educate people about the supply chain and how it can actually add value to the business in more ways than just having the right part in the right place.
What's the most challenging part of your career?
This is probably one of the more challenging assignments I have had. It's the perfect storm, we are trying to develop people, systems and processes all at once in a very delivery focussed, high-pressure environment.
It is very important to be disciplined about priorities and set a clear agenda in order to engage others in the business. Against the back drop of implementing a $20.4 billion project, with a very tight timeframe, everyone is busy and it's easy to get lost in the noise. Having a clear direction, plus being good at influencing and engaging people, is very important – along with a good measure of patience.
What is your proudest career achievement?
Creating an environment where people can succeed and achieve things that they didn't believe they could. While working in manufacturing, I have led several large 'lean' transformations. We had people who went from saying 'it can't be done' to believing the complete opposite, that 'everything is possible'. I think that's when you know you've succeeded with any team, when people start to believe and to challenge the boundaries they set for themselves.
How does the future look for your role?
I am setting up the ongoing supply chain organisation for QGC. In a year or so, when that's done, I'll probably move on to other activities within the business, most likely as part of QGC's Operations team. For most of my career I have been the change agent, the person who comes in and fixes or builds things. Refining and sustaining is a different skill set so it is important to know when it is time to hand over to a successor who can continue to build on the foundations I have created. Even after the QCLNG project has been completed at QGC there will be ample opportunities for me to contribute to improving the business, as we make the transition from project delivery to low cost commodity business.
UQ Business School's tagline is "Challenging the future". For you, what will be the most challenging business topic in the next ten years?
The main challenge, particularly in this industry, and in Queensland, is reconciling our environmental, economic and industrial goals. At the moment there are a lot of different agendas at work and government regulation doesn't really join up. The energy and resources sector is critically important to Australia's economic prosperity. From a business standpoint, it's quite difficult. Resources companies are up against a lot of green legislation which must be navigated while also maintaining a licence to operate. If we are to remain competitive in global markets then Australia must find more effective ways to align environmental and economic agendas.
What is your motto in life that you try and live by?
Work to live not live to work - in this business, the hours can easily creep up on you. One of my most influential early managers used to say, better to move fast and get 80% right and 20% wrong than to just sit and think about it too much.
What mentor or inspirational figure has guided or influenced your life in a certain way?
I've been fortunate enough to have had a few - I've also had negative role models who I've used as examples of what not to do. What really resounds with me is the concepts of transformational leadership, servant leadership, and leaders that are willing to be vulnerable.
The best team I worked in had a senior leader who simultaneously led from the front, supported from behind, celebrated individual & team wins, while also holding himself and the team accountable. I aspire to lead in this way. There's nothing worse than leaders who are not willing to acknowledge their mistakes, or who forget that their success is generated by the people around them.
Why did you decide to do an MBA?
I thought it was a really good way of taking my practical experience and re-bundling it into another qualification. I think that's the real proposition of the MBA and that's what you notice on the course. For people with a lot of industry experience, it enables you to make sense of your experience and re-apply it in the context of the theory.
What's your most positive memory of your time at UQ Business School?
A group of us worked with pearl farmers in Fiji as part of the Social Economic Engagement Program (SEEP). The local farmers were running subsistence-type farms to support their families and villages. I remember the look on their faces when we developed models which showed them how they could simply leave their product in the water for an extra six months and go from making a loss to making a profit. It meant they could succeed. It was fantastic doing something that can directly benefit people, in comparison to the invisible shareholders that you normally get in corporations.
Following your MBA course you were named as the 2011 Top MBA Student and also won the Director's Award for Leadership. What impact has the School had on the way you operate or think about business?
I think it's more about viewing things holistically. Having done engineering and worked my way through the industry, I had a general idea about P&L's and how things worked, but it's now about how it all joins up. I think it's really about seeing the big picture, so when there's a discussion going on you are able to present a balanced view.
What key piece of advice would you give someone thinking about doing an MBA?
Be clear about your motivation for doing an MBA, because it's not a remedy for all ills. The power of an MBA is not just the knowledge but how you integrate it with your experiences to progress your existing career or perhaps as a means to change direction. Like anything it is how you put the new knowledge into practice that is important.
Want to have the spotlight in the next Alumni e-news? We'd love to hear what you've been up to since graduating from UQ Business School. Share your story with us