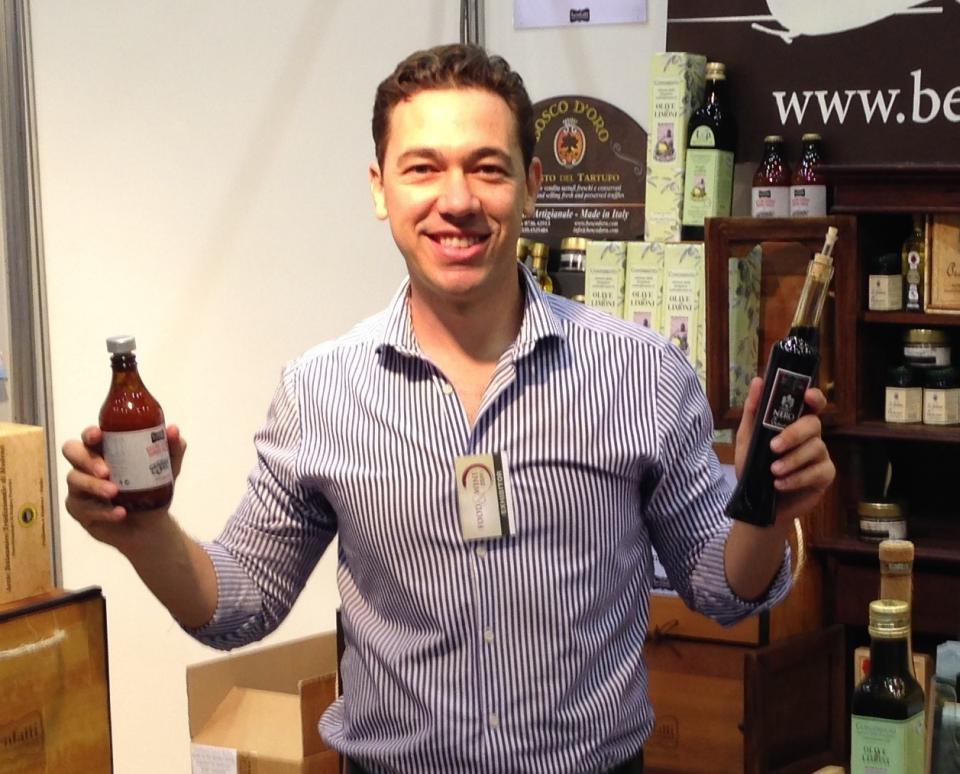 What did you want to be when you were 10 years old? Is the career you're in now something you ever thought you would be doing?
At the age of 10 all I really wanted was to score as many goals as I could by the end of the soccer season. I was a very competitive little centre forward striker and dreamt of playing for Australia when I grew up. The closest I got to being a Socceroo was making it through to the NSW Football Academy in my teens.
Today, I represent Australia in a slightly different way. As an Italian food importer, I travel to Italy looking for unique hard-to-find artisan foods that Australian foodies will appreciate and demand. The closest I come to scoring a goal is when I successfully broker a supply deal with an Italian producer or win new business with clients here in Australia. I suppose it's that competitive little striker in me.
Could you give us details about your career history? How/where did you start?
Through my undergraduate studies I was lucky enough to be granted a scholarship to study in Bologna which is considered the culinary capital of Italy due to its love of food. It was here at the age of 19 that I really started to fall in love with Italy and all it had to offer. Although I did not see a clear business opportunity at the time, I saw enough to know that I wanted to do some type of business between Australia and Italy in the future.
After graduating with a Bachelor of Commerce I secured a graduate role in the export sales and logistics department of an Australian building products manufacturer. Here I learnt the basics of importing and exporting, how to sell and how to solve supply chain problems and keep clients happy.
After selling a large amount of bricks and pavers, I started to get a little bored and enrolled part-time at UQ Business School to do a Master of Business (International Business) while I continued to work full-time.
Through my Master of Business I became very interested in the case studies we did and the techniques of how to analyse and construct solutions to complex business problems. I took this new passion of mine very seriously and joined PricewaterhouseCoopers (PwC) where I led teams of consultants that would help solve complex business problems for some of Australia's largest blue-chip and government entities.
While I was very good at management consulting, my true passion was entrepreneurship; my dream was to work for myself doing something I truly loved. I am now so happy to be doing just that. I am the founder and director of my own Italian food importing business.
What is your proudest career achievement?
Being brave enough to leave something I was good at and focus on something I was passionate about. The moment I saved enough funds to launch my own food importing business and take full control of my career has been my proudest career achievement to date.
Could you please describe your current position?
I am the Founder and Managing Director of Benfatti Fine Italian Foods. Benfatti is a boutique fine foods business which specialises in sourcing, importing and distributing the highest quality, 'hard to find' authentic artisan foods from Italy.
I manage a small operational team in Australia and a network of artisan producers from Italy. My role is to build strong enduring relationships with both my customers and business partners here in Australia and my suppliers over in Italy. This involves several trips a year to Italy as well as a lot of travel across Australia to drum up new business and grow our distribution network.
In addition to importing our own portfolio of gourmet Italian foods we also offer specialist sourcing services for companies looking for unique artisan foods not already found in domestic markets. This allows us to scout and export products direct from Italy to any country in the world.
The most enjoyable part of my role is hosting exclusive Benfatti food and wine appreciation tours to some of Italy's lesser known regions which are focused on allowing Benfatti guests to gain a deep appreciation for the artisan producers and small farmers of Italy.
What key piece of advice would you give anyone wanting to start up their own business?
Believe in yourself, test your business concept, plan your execution very well and then go for it. Then when it gets really tough (which it does) and cash flow starts tightening (which happens) think about that boring pen pusher job you had before you ran your own business. At this point summon up enough courage to step it up, knuckle down and turn your dream into a reality by giving your business venture everything you've got.
How does the future look for your role?
I get so excited thinking about the future of my business. I want to grow to become a very effective Managing Director who has a motivated team of passionate people who love what they do. My role will be to coach and put in place solid business operators in each of the regions of Australia where we will distribute before looking further afield to targeted locations across Asia.
UQ Business School's tagline is "Challenging the future". For you, what will be the most challenging business topic in the next ten years?
How do we create a healthy balance of power in our food supply chains? The growing power large multinational companies have over our food supply chains worries me. This is further complicated by the price wars large grocery stores engage in to win market share. While this may be easier on the wallet for us as consumers, it makes it nearly impossible to survive if you are a small farmer or artisan producer. Every time I travel to Italy I see more and more small artisan producers going out of business as their produce becomes too expensive for what consumers are willing to pay. This makes quality artisan produce even harder to find and less affordable for the consumer. This same trend is happening all over the world, even here in Australia. The challenge at hand is to create a market which supports small food producers so that they can continue to offer a premium quality food supply which is still profitable for them while being affordable for the end consumer.
What is your motto in life that you try and live by?
Live life to the full and give everything you do in life your very best shot.
What mentor or inspirational figure has guided or influenced your life in a certain way?
My nonno (grandfather) migrated to Australia from Italy with a big family and little money in his pocket. His determination and perseverance to make a new life for his family in Australia through starting, running and growing his own small business inspired me to do the same.
Why did you decide to do a Master of Business?
I love learning; I find it fun and fulfilling and enjoy the network of people you meet when you study. I decided to do my Masters in International Business because I wanted to increase my business acumen as well as my business networks so that I could do business on an international scale.
What's your most positive memory of your time at UQ Business School?
During my studies at UQ I lived in a share house in St Lucia on Hawken Drive with a bunch of international students who came from nearly every continent of the world. I must say that my most positive memory was throwing crazy house parties where we would invite half of the Business School to attend….and they did. Such fun times led to lifelong friendships for those of us that lived in the shared house - we all still keep in touch even though we live on opposite sides of the world.
Want to have the spotlight in the next Alumni e-news? We'd love to hear what you've been up to since graduating from UQ Business School. Share your story with us