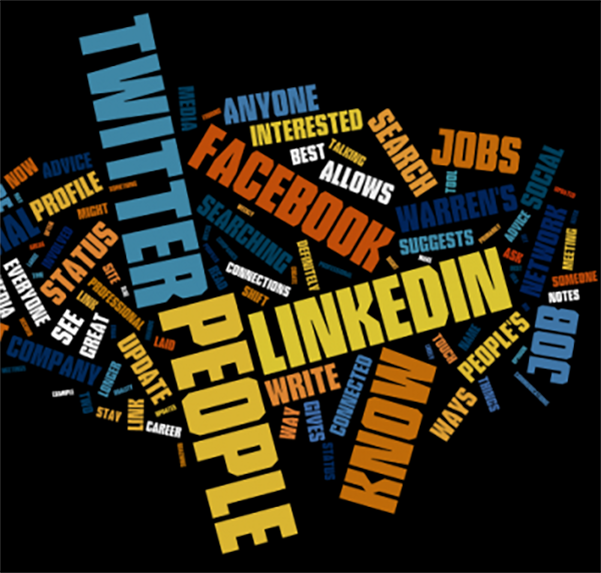 LinkedIn
Update your profile - LinkedIn has established itself as the leading social media site for professionals. Ensure your profile provides the best possible showcase for your skills and achievements. Use a photograph that looks smart and professional and think carefully about your professional headline - the LinkedIn equivalent of the elevator pitch. If you have just graduated and are looking for a job, this might for example be 'Economics graduate seeking employment opportunities'.
Consider search terms - You want to be sure that recruiters can find you so consider what search terms would be most appropriate and incorporate some in your summary, though not so many that it is simply stuffed with keywords. You can include other keywords under 'specialties'.
Get recommendations - If you haven't already done so, ask former employers, colleagues or clients to give you a recommendation.
Join groups – Relevant groups might include ones relating to the industry sector you want to work in, your skills and profession, business groups in your geographical region - and of course UQ alumni groups! There are also special groups for job seekers.
Search for jobs – If there are some companies you are particularly interested in, you can find out if any people within the company are connected to other people you know and if so, ask for instructions.
Target companies – Many companies post jobs on LinkedIn. You can search by industry, type of job and location. Also check your groups for jobs and sign up to receive notifications.
Email your contacts – If you have just graduated, or are seeking a new role, why not email everyone in your LinkedIn network to let them know that you are looking for opportunities? You can send a group email to notify people of your situation and the type of role you are seeking.
Update your status regularly – Every time you do so, it notifies others in your network and helps to keep you in their minds.
Twitter
Connect with others – Following companies that you would like to work for will give you additional information about them, demonstrate your interest in the event of any future interview and may alert you to any job opportunities. Also follow recruiters, job sites and people in the areas you want to work in.
Search for jobs – Use the search function to look for jobs in your particular area of expertise.
Complete your biography – Ensure it refers to your skills and experience and include a link to your CV which you can post online somewhere.
Establish yourself as an expert – Tweet about your industry, giving tips, news updates and advice.
Follow people at your target companies - Twitter allows you to search people's biographies so you could look for people working at your target companies and follow them.
Other
Spread the word - Facebook is seen by many people as a way to keep up with friends and family. However friends may work for companies that have opportunities coming up, or know others who do, so it does no harm to remind them – provided of course that you are not already in a job in which case you may have to be more discreet! Post a note on your Facebook page to say what type of roles you are looking for.
Don't spoil your chances – Be careful about what you say on social media channels and beware of comments made by friends. Recruiters often check people out online and, while you may maintain a professional image in your working life, it's easy to let your guard slip on social media channels. An inappropriate remark or photograph could ruin your chance of a job.
Write a blog – A blog is another way to establish your expertise on a particular topic. You can use it to expand on subjects you've tweeted about and link to it from your LinkedIn profile.
Contact the Careers and Recruitment Centre for any advice or help careers@bel.uq.edu.au