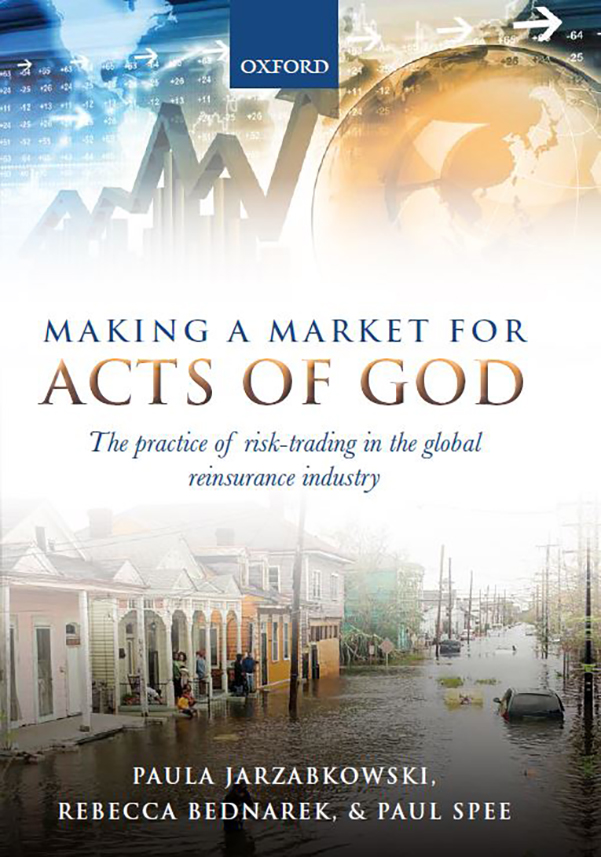 Changes in the reinsurance industry could harm both investors and the victims of disasters who rely on insurance payouts to rebuild their homes and communities, according to a new book co-authored by a UQ Business School academic.

Dr Paul Spee was one of a team of researchers who carried out a study of reinsurance trading – a US$575bn financial market that trades in the risk of unpredictable events and disasters.

In their new book, 'Making a Market for Acts of God', Dr Spee and his co-authors Professor Paula Jarzabkowski, City University, and Dr Rebecca Bednarek, Birkbeck, University of London, warn that insurers are increasingly bundling together risks and selling them on to investors in a similar way to the trade in subprime mortgages before the GFC. These bundled deals obscure the true risks and could result in a banking-style collapse within the reinsurance industry.

"New financial products such as catastrophe bonds are still untested waters," says Dr Spee, a Senior Lecturer in Strategy. "These, together with changes to the way traditional reinsurance products are bought and evaluated, raise questions about the reliability of payouts which will affect the pace at which societies bounce back following a disaster".

"With both natural and man-made disasters increasing in frequency and severity, these changes could have profound implications for the Australian economy, as well as the companies and citizens affected."

The book draws on their fly-on-the-wall three year study of reinsurance trading in its major trading hubs Lloyd's of London, Bermuda, and parts of Continental Europe. They spent three years shadowing the everyday life of underwriters, brokers, and clients at a time when they dealt with the aftermaths of disasters including the Queensland floods, earthquakes in New Zealand and Deep Water Horizon.

Making a Market for Acts of God is now available from Oxford University Press and will appeal to professionals in insurance and related industries, as well as those with an interest in global affairs, financial markets, and unpredictable world events.