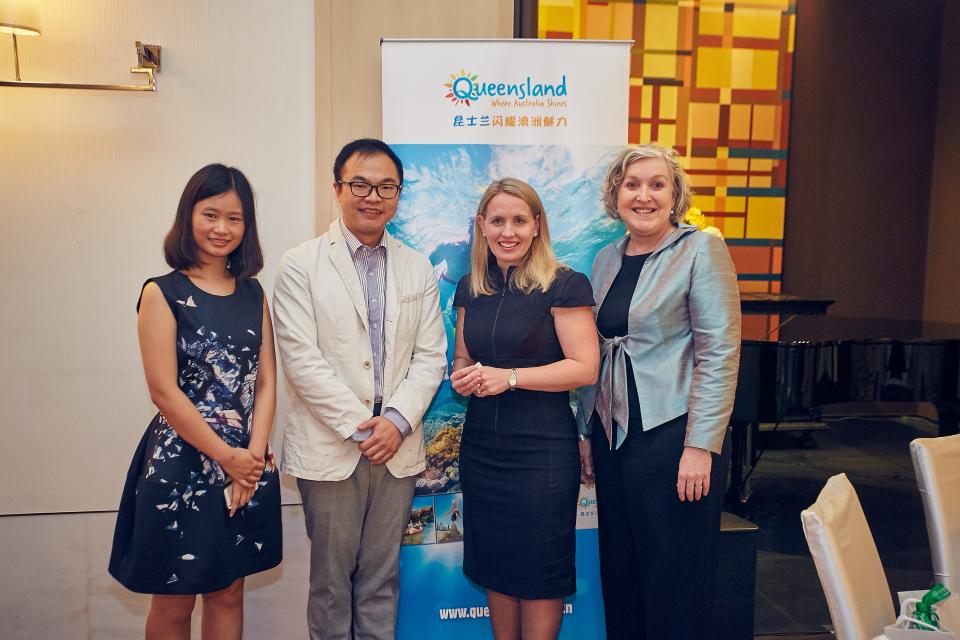 UQ Business School Adjunct Professor and CEO of Tourism and Events Queensland, Leanne Coddington, joined Queensland's Minister for Education, Tourism and Major Events, Kate Jones, to meet with one of tourism's most important academic partners, Sun Yat Sen University (SYSU) in China.
Ms Coddington and Minister Jones travelled to Guangzhou to liaise with academic representatives from SYSU to enrich the strong existing partnership between the two universities and discuss further opportunities for cross-cultural education.
Ms Coddington said it was fantastic to meet Professor Zhang and Ms Chen, who helped her gain a first-hand understanding of the benefits for Chinese undergraduates to learn and experience two cultures while progressing their formal education in tourism.
"It was exciting to hear of the continued success of the partnership between SYSU and UQ Business School, and the unique experience offered to students who undertake the 2+2 Bachelor of International Hotel and Tourism Management program," she said.
The 2+2 programs enable students to complete two full years of study in China and then are able to undertake two full years of study at The University of Queensland, and receive degrees from both institutions.
UQ Business School's tourism cluster began their partnership with Sun Yat-Sen University in 2007, and the partnership was strengthened in 2009 with the introduction of the joint '2+2' program with their Event Management students.
As an Adjunct Professor, Ms Coddington has been a long-standing supporter of tourism studies at UQ, providing students and academics with direct links to high-level industry and government representatives.
Ms Coddington is also a guest lecturer, a member of the UQ Tourism Industry Advisory Board and an active student mentor.