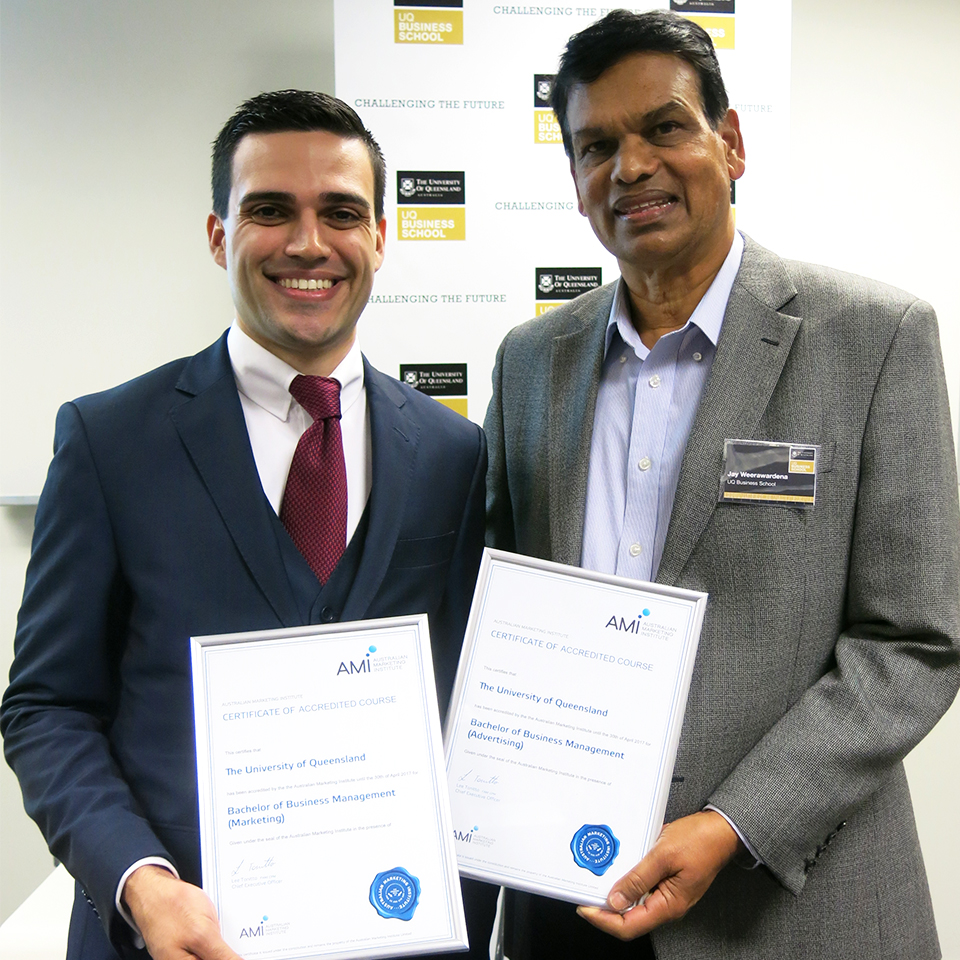 UQ Business School has achieved Australian Marketing Institute (AMI) Accreditation for its courses in marketing and advertising, as part of its Bachelor of Business Management program.
AMI recognition provides an independent verification of status and quality, enhances the credibility and employability of graduates from accredited courses, and contributes to the wider aim of bringing academia and practice closer together.
Marketing Cluster Leader, Associate Professor Jay Weerawardena, says this hard-earned endorsement will increase awareness and visibility of UQ Business School's marketing courses and will enable students to be graduate job ready as emerging marketers.
"This accreditation will not only formally accredit our Bachelor program but also provide a 'seal of approval' for many innovative, industry relevant new courses and assessment schemes our cluster has introduced over the recent years with strong practitioner input.
"This is the result of a few months of hard work by UQ Business School staff which started in April last year with the support and the guidance of Associate Professor Len Coote and the Business School Accreditation team Trisha Barber, Vishen Naidu and Director of Accreditation Professor Karen Benson," he added.
The advertising and marketing courses were recognised for the opportunities they provide for students to undertake real-world industry projects, and their comprehensive focus on marketing concepts and related theories, principles and processes that are explored from a strategic and applied prospective.
UQ Business School academics were also recognised for their focus on research specific to industry needs, and their impressive qualifications.
Both the advertising and marketing courses met all Level 7 Australian Qualifications Framework standards across Social Responsibility, Analysis, Knowledge, Judgement and Communications.