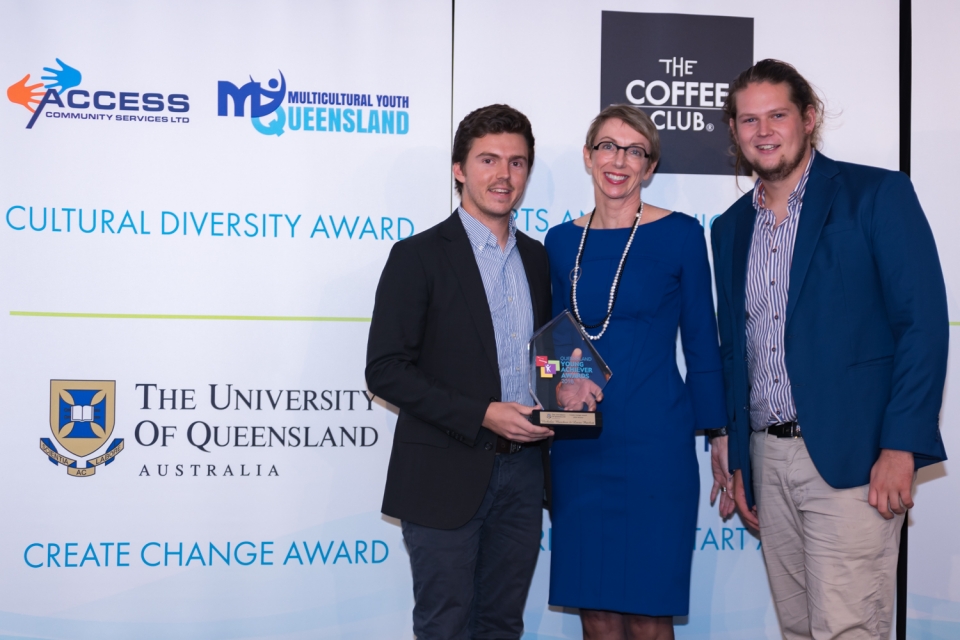 After being named as joint Young Australian of the Year 2016, University of Queensland student Lucas Patchett and business partner Nic Marchesi have again been recognised for their brainchild, Orange Sky Laundry.
The duo won the UQ Create Change Award at the inaugural Queensland Young Achiever Awards.
The award acknowledges and celebrates the commitment young people make in achieving or participating in positive activities that empower change locally, nationally and/or internationally.
UQ Acting Deputy Vice-Chancellor (Academic) Professor Doune Macdonald presented Mr Patchett and Mr Marchesi with the award.
"Lucas and Nic are inspirational young Queenslanders, and I congratulate them on this well-deserved recognition," Professor Macdonald said.
"UQ is committed to supporting students in their pursuit to create change in the world and to support, encourage and mentor student entrepreneurs on our campuses. 
"We're thrilled that the first recipient of this award includes a UQ student."
Orange Sky Laundry is a free mobile clothes washing service for the homeless, and has a fleet of seven vehicles and operates in four states.
Mr Patchett, a Bachelor of Engineering and Commerce student, and Mr Marchesi have connected with hundreds of people experiencing homelessness and provided 70,000kgs of washing and drying to those in need, as well as companionship.
The duo has developed a comprehensive training program and provides ongoing support to their 300 volunteers.
The Queensland Young Achiever awards acknowledge, encourage and promote the positive achievements of all young people.
For more information and to see all the winners visit https://www.facebook.com/QLDYoungAchiever
UQ students and graduates who were semi-finalists/finalists in the Queensland Young Achiever Awards are:
Sean Roche (Bachelor of Arts/Bachelor of Business Management graduate) was a finalist in the UQ Create Change Award. Mr Roche created Lawfunder.org – a crowd funding platform to help community legal centres raise funds to assist with their client's legal costs.
Sarah Timmerman (Bachelor of Arts/Bachelor of Business Management graduate) was a finalist in the iFly Online Achievement Award. Ms Timmerman created Beginning Boutique, now an internationally recognised online retailer with hundreds of thousands of worldwide customers.
Holly Tattersall (Bachelor of Business Management graduate) was a finalist in the iFly Online Achievement Award. Ms Tattersall is the Founder and International Director of Women in Digital, a not for profit that supports women in their digital careers by providing mentoring, education and networking events.
Emma McIntosh (Bachelor of Education/Bachelor of Arts graduate) was a finalist in the BB Print Leadership Award. Ms McIntosh founded Y-Care – South East Queensland's first disability service.
Madeline Price (Bachelor of Arts/Laws student) was a semi-finalist in the UQ Create Change Award. Ms Price is the Founder and Director at the One Woman Project – one of Queensland's fastest growing, youth-lead, non-for-profit organisations.
Freeda Thong (Bachelor of Science majoring in psychology graduate) was a semi-finalist in the Environment and Sustainability Award. Ms Thong is the Director at Ecopads Australia – a Brisbane based social enterprise that prides itself in hand making humanly imperfect cloth pads with a passion. For each sold in the developed world, one cloth pad is donated to a girl or woman in need.