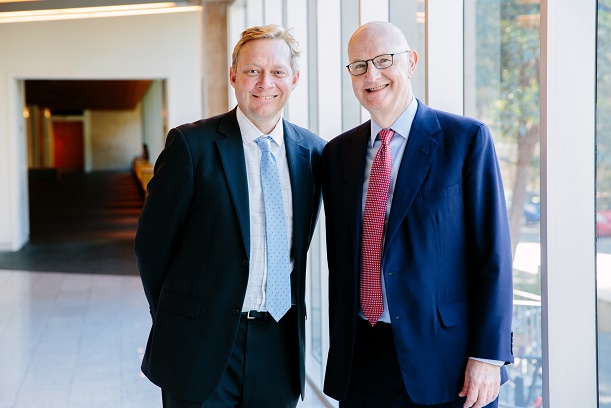 Leading Australian businessman, University of Queensland alumnus and philanthropist Mr Malcolm Broomhead this week visited UQ to share his business insights with students and present the first instalment of his $3 million gift to help establish UQ's first Chair of Finance.
Mr Broomhead is Chair of Asciano Ltd, Chair elect of Orica, and a non-executive director of BHP Billiton Ltd and BHP Billiton Plc.
Speaking to a group of business, economics and engineering students, Mr Broomhead urged them to follow their passion, drive their own careers and be persistent.
"If you do what you are really passionate about, you'll do well," Mr Broomhead said.
"You need to drive your own career.  You'll find if you persist, everyone else eventually sits down, so keep at it; you need an unremitting dedication to purpose."
Mr Broomhead said it was likely this generation would have a very different work pattern with many more people pursuing an entrepreneurial path.
He listed the development of effective solar batteries, artificial intelligence, driverless cars and the ubiquitous availability of free online education as game-changers for global business in the near future.
"The pace of change is picking up and the world will be a very different place," he said.
"The free market is a ruthless place.  Whether you succeed as an entrepreneur depends on you.
"Entrepreneurs are people who don't mind taking risks and they don't mind failure.  It depends on your passion."
Mr Broomhead told students that maintaining and strengthening corporate culture was the most important thing for a CEO to manage in a large company.
"Culture is the thing most CEOs forget about because it's very time-consuming," he said.
"But the drive to shape culture must come from the top, you can't delegate it to the HR department.
"My view is that to change culture, you've got to ask all the staff: what do we do well?  What do we not do well? If we were the best business in the world, what would we look like?
"Everyone knows what we don't do well!  And on the big issues, everyone has the same answers.
"You need to get a representative group of people to put together a list of values and that becomes the culture, because they have ownership.
"Then you put it in the performance management system. Culture is something everyone has to abide by."
Speaking on the transition from being a CEO to a Chairman, he said the hardest thing was avoiding the urge to tell the CEO what to do.
"You've just got to ask the right questions," he said.  "Read the board papers and decide on three penetrating questions to ask.  That will make more difference than beating your drum about everything that comes up."
Mr Broomhead was project engineer and construction manager with MIM Holdings in Brisbane when he undertook his MBA at the UQ Business School in the early 1980s.
He describes his MBA as pivotal to his career, helping him accelerate to a CEO position.
An international search is currently underway to fill the Malcolm Broomhead Chair in Finance.
Vice-Chancellor and President Professor Peter Høj described the $3 million gift as of strategic importance and a fine example to others.
"It will enhance the UQ Business School's capacity to educate and develop the business leaders of the future," he said.
Mr Broomhead's philanthropic interests also include genomic research into blood cancers and providing micro finance in developing countries.