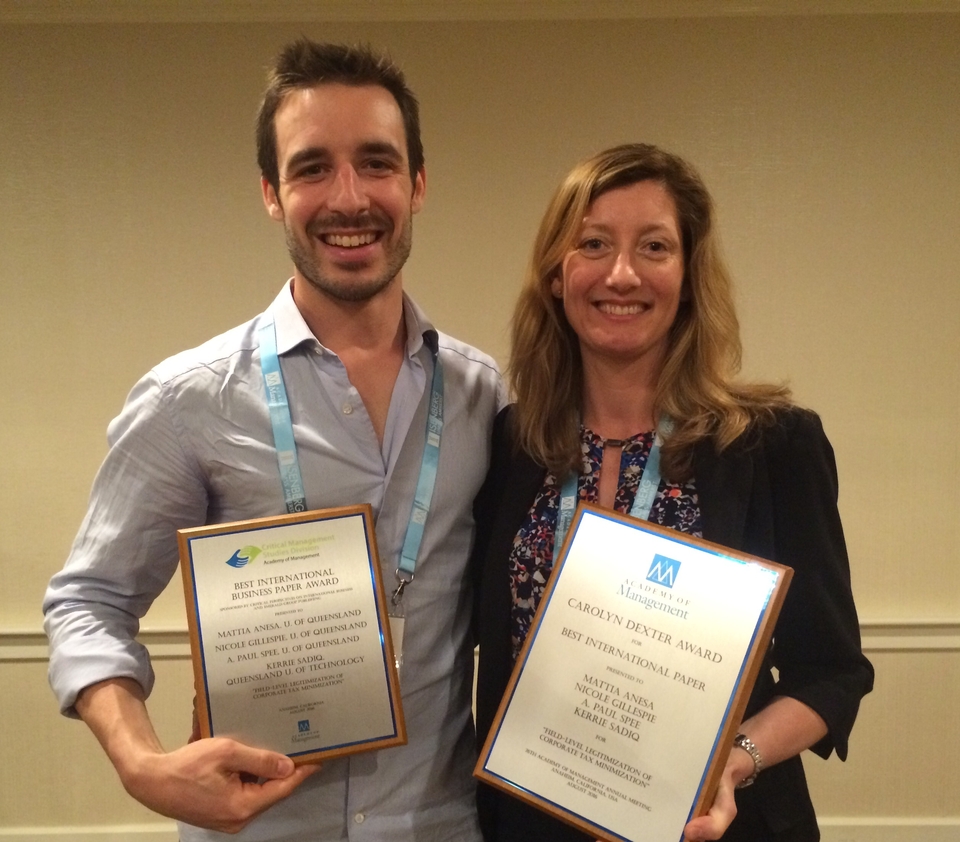 UQ Business School PhD student Mattia Anesa, along with Associate Professor Nicole Gillespie, Dr Paul Spee, and QUT Professor Kerrie Sadiq, have received the Carolyn Dexter Award for Best International Paper by the Academy of Management for their paper 'Field-level legitimization of corporate tax minimization'.
To be considered for this prestigious award, the paper must offer new insights, be rich in observation and employ creative approaches.
Its theme and content should also reflect an awareness of business and management outside of domestic boundaries.
PhD student Mattia Anesa said that since the paper discusses the topic of corporate tax avoidance from a critical and normative perspective, it was surprising to receive the esteemed award.
"This is the first time in the history of the academy that any work that was awarded best paper by the Critical Management Studies' division was concurrently awarded the Carolyn Dexter best paper award. Clearly, there has been a tidal change in business academia.
"Management scholars are increasingly considering the calls for meaningful business conducts that go beyond profitability. I am proud to be part of a team that has represented UQ as an example of excellence through progressive thinking," he said.
PhD student Hieu Nguyen has also been awarded the Best Doctoral Student Proposal Award at the Academy of Management's 'Cognition in the Rough' Professional Development Workshop.
The Workshop is sponsored by the Academy's Managerial and Organisational Cognition (MOC) Division and attracts proposals from doctoral students around the world.
Mr Nguyen said it was a tremendous honour to receive the award.
"It was an honour, especially considering the amazing PhD candidates who attended this year. I would like to thank UQ Business School and my supervision team for helping me get this far," he said.