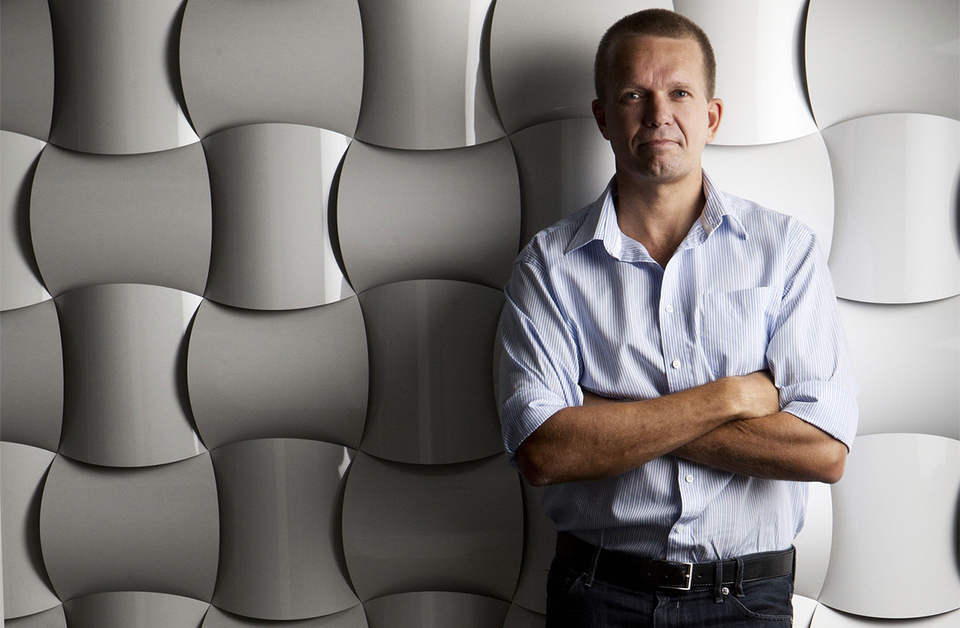 Mark Sowerby started his career in agriculture before moving into asset management to launch Blue Sky Alternative Investments. Here the UQ Business School alumnus talks about the 'sliding door moment' that helped him make the transition, the challenges of setting up and growing the business, his recent decision to step down from the firm and his new life as the state's Chief Entrepreneur.
Q. You graduated from UQ with a degree in Agricultural Science in 1993. What attracted you to the subject and how did you end up working in finance?
A. I went to a boarding school on a farm near Tamworth, which encouraged students to return to the land or study Agricultural Science. I realised early on I didn't really want to be an agronomist but I finished the degree before backpacking around the world for a year.
In life you get these sliding door moments, and many of them slip by without notice. While working on the Darling Downs as a glorified bug checker, I started a Graduate Diploma in Applied Finance and Investment. My cunning plan was to leverage my agriculture background into commodity trading, so I sent my CV (by post – this is 1994!) to about 100 people around the world.
More through good luck than anything, I scored a job as a trainee cotton trader in Alabama, USA. My sliding door had opened, and I jumped through it. Global trading across cultures, time zones, geographies and markets – what an opportunity!
Eight years later, I had worked in over 40 countries, spent three years in the US and rebuilt the company's Australian operations. More importantly, I learned a lot about people – what they are really like, what pressure does to them, how greed and fear can change behaviour, and how to build successful teams.
What made you return to UQ to study for an MBA and what impact did it have?
I couldn't just run and learn on instinct – I needed something with more substance to guide me along the way. I started studying the part-time MBA and applying what I learned to the business.
Some of it worked for me, and some of it didn't, but over four years juggling the demands of a young family, international work and travel, and the MBA, I slowly built up a toolkit of ideas that formed the foundation of rules I used to eventually build Blue Sky to a $500 million company.
What made you decide to start Blue Sky?
As is often the case with MBA's, as soon as it was done I decided to change direction and took a job turning around a farmer cooperative in South Australia. I had enjoyed turning around the Australian operations of my cotton company and thought I might like this.
The business was 50% owned by farmers and 50% by a listed Ag corporate, and they weren't heading in the same direction. I learned a lot about alignment of interests, and this has served me well in how I think about team structures and private equity deals. We ground out a successful turnaround but that was testament to the team, not the industry.
At 35 I decided to make the leap. I had no private equity background at all, but loved building businesses so figured I could build my own whilst also helping others do the same. Hardly a detailed business plan, but I literally bet the house and everything in it. My recollection is [my wife] Heidi was quite cool with it all, but maybe I just wasn't paying attention.
What challenges did you face in starting and growing the business?
As a Brisbane-based start-up in private equity, we were always going to find it hard. The financial centres of Sydney and Melbourne dominate the sector, and they all had much better private equity pedigrees than we did. And of course I started the business just 18 months before the financial crisis!
But as with all good start-ups, we found a way through and survived through to a small scale listing on the ASX in January 2012 with a market capitalisation of just $33 million and $200 million in Assets Under Management (AUM).
The ensuing four and a half years were a roller coaster of crazy deadlines, market volatility and amazing growth. We attracted better people, established an incredible culture, and the headwinds turned into tailwinds.
Ten years since inception, we had a business with 85 in the team, more than $2.1 billion under management, offices in Brisbane, Sydney, Melbourne, Adelaide and New York, and an investment track record of 16.7% per annum compounding net of fees.
Through that period we were the fourth best performing stock on the ASX with a total shareholder return of more than 800%. And then in August 2016, I retired.
Your decision to retire in August 2016 will have surprised many people. Why did you decide to leave and what are your plans now?
It's easy to get caught up in all the fluff around a successful business. I had spent the best part of two years training to swim the English Channel which I completed in August 2015. This experience was life changing, reminding me of the things that really matter.
I thought deeply about why I had started Blue Sky, what was really important to me, and what I wanted in my life story going forward. The business was flying, and the team were ready and willing to take it to the next level.
After years of sacrifice, Heidi and I had earned the right to spend more time with our two boys - at 14 and 12 they are at an age where it's important for dads to be around.
As Queensland's first Chief Entrepreneur I'll be doing a few days each week for a year helping to kick along our start-up sector. I joined the Board of Racing Queensland to try and help the industry through a rough patch, and I'm on the Board of the Starlight Children's Foundation.
These all seem to mess up into one big concoction of 'life' which has to fit around supporting Heidi and the boys. I had my run, now it's time for them to have theirs.