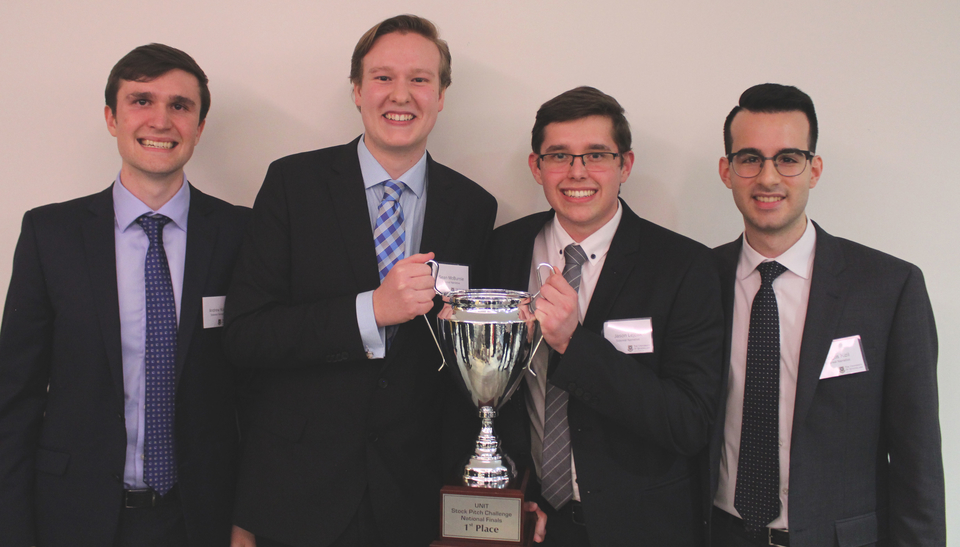 Four of our UQ Business School students recently took out the top spot at the national Citi Global Market Challenge, where over a four week period they invested US$500million across equities, fixed income, cash and commodities in a competition focused on outperforming other team's investments.
The winning team included Angus Kizil, Sean McBurnie, Andrew Kilner and Jason Lejcak who are each studying undergraduate degrees in finance and commerce from the UQ Business School, and economics.
"We were nervous going into the competition but it was a massive relief to deliver our final presentation and we were incredibly delighted with the result," said Angus Kizil on behalf of the team.
The team had to work extremely hard over the four week period between campus heats, campus finals and finally achieving a position in the national finals, where they were able to work cohesively and drew on the individual strengths and backgrounds of each of the team members to take out the top spot.
"We all learnt an immense amount over the duration of the competition and this experience will significantly contribute to our pursuit for a career in the financial services industry", he said.
Throughout the competition the team had to consider financial market implications affected by the global reflation trade, the outcome of the French Presidential election, OPEC's decision on whether to extend production cuts, and the agenda of the Trump administration, with each factor affecting the team's decisions in investing throughout the competition.
"The Challenge was highly engaging and we found ourselves constantly plugged into the global news cycle. Given the nature of financial markets we remained alert and kept our eye on particular geopolitical events which would significantly impact the performance of our portfolio", said Angus Kizil.
As the winning team in the competition the four students have secured a final round interview for the Citi Global Markets Internship program offered by Citi Bank