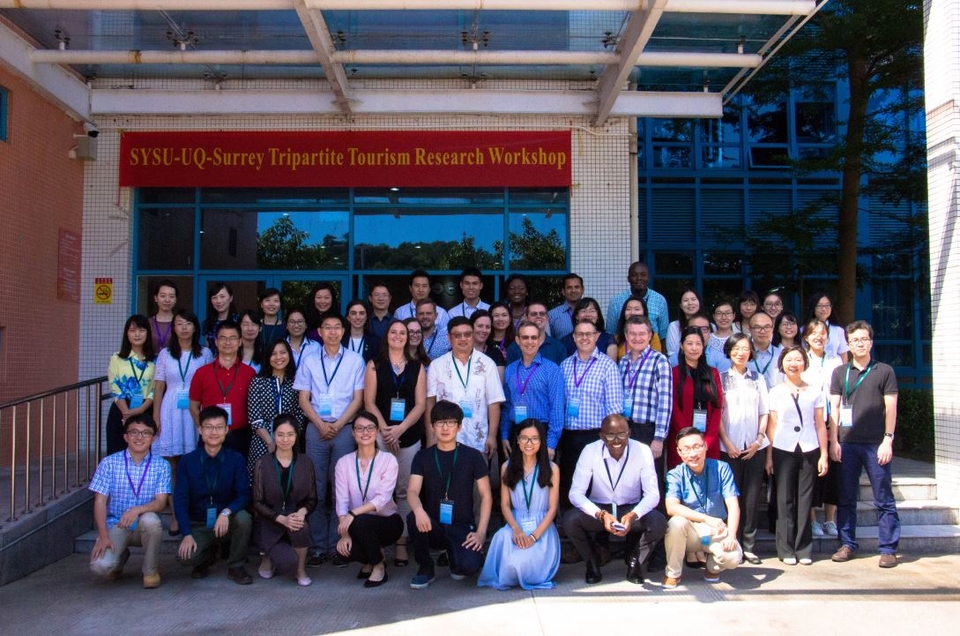 During July 2017, six Tourism academic staff and eight PhD students from UQ Business School attended the first 'Tripartite Tourism Research Workshop' held at Sun Yat-Sen University in Guangdong Province, China.
The meeting was the first joint activity of the Tripartite Partnership of the three universities, Sun Yat-Sen University, University of Surrey, and The University of Queensland, after establishing a global partnership in 2016, bringing together an elite group of university tourism schools in their respective countries.
The workshop was held over four days and included the topics of Tourism, Hospitality, Event Competitiveness and Sustainability: Global Partnership Network Opportunities and Challenges.
Attendees had the chance discuss further opportunities between the universities, attempting to identify ways to find future research and researcher mobility between Australia, China, and England.
UQ Business School Tourism Discipline Leader Associate Professor David Solnet, who attended and co-chaired the conference said that this was the perfect chance for staff and students to meet and connect with their peers from around the world.
"The workshop offered great opportunities for UQ Tourism staff to meet their counterparts, share research ideas and develop research proposals. It provided a unique opportunity for several PhD students to gain valuable research training and networking opportunities," he said. 
PhD student Yawei Jiang attended the trip and found it a valuable opportunity to collaborate with fellow students.
"It was a great opportunity for us (PhD students) to get to know fellow scholars and research students and their research topics and explore potential research collaborations. I had the chance to exchange ideas with scholars about their lab environments, equipment and analysis platforms," she said.
One of the purposes of the conference was to begin collaboration on joint academic papers, China-Partnerships Coordinator Dr Jie Wang has been coordinating efforts on behalf of UQ and sees this as a great opportunity to meet their counterparts.
These collaborative efforts focused on areas of strength between the three universities, these being competitiveness, sustainability, and digital information technology in tourism, hospitality, and events. Participants of the workshops lead discussion groups to contribute ideas and challenges in the field.
At the end of the conference attendees received an amazing opportunity to visit the iconic Yangshuo city, where one of the United Nations World Tourism Organisation Monitoring Centres is located.
This is the first of many collaborations between the universities, helping strengthen their connections and providing opportunities to showcase the UQ Business School Tourism program.
"The long term impact of this workshop should not be underestimated. It has allowed us to share our research talent and raise our global profile with the two top universities in our field in China and England."
"The trip was a huge success, cementing an important relationship for us between three of the top tourism, hospitality and events university programs globally," said Associate Professor Solnet.
This workshop marked the beginning of the partnership between the universities, with many more opportunities planned between these global tourism program leaders