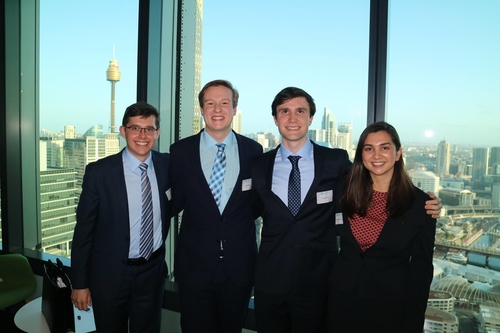 UQ Business School finance students, Sean McBurnie, Amany Cummins, Jason Lejcak, and Andrew Kilner, participated in the recent Chartered Financial Analyst (CFA) Institute research challenge, coming an astonishing 3rd place in the Australian regional final.
Each year the CFA Institute hold a competition that provides an opportunity for university students from around the world to compete in a research challenge to be crowned the global champions.
Centred on equity research, the challenge set teams involved the task of writing a 30-page initiation of coverage report on this year's subject company, Domino's Pizza. Each team within the competition was provided with a mentor who guided them in preparing the document.
Once completed, the report is evaluated by high level executives from some of the top firms from around the world.
The four teams with the highest results from the report were then selected to compete in Sydney, where they were given the opportunity to present their recommendations for the subject company before a panel of industry experts.
This was followed by a Q&A panel that required the team to defend their investment thesis.
Dr Damien Cannavan, Finance lecture at UQ Business School, says that this was an excellent experience for the team to apply their practical knowledge in an extra-curricular setting.
"This challenge provided the students with a fantastic opportunity to apply the knowledge that they have learnt in class to a real life situation.
"To receive feedback on their analysis from some of the top investment professionals in the country was an invaluable experience for the team. We are extremely proud of the team for their hard work and effort" says Dr Cannavan.