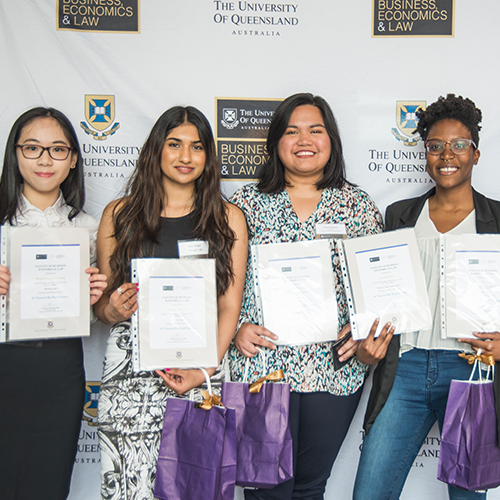 A team of University of Queensland business students has earned praise for their sustainable solution to the excess clothing piling up in St Vincent de Paul Society Queensland donation warehouses.
Their idea – an in-house clothing recycling process – was the stand-out of this semester's Community Engagement Program (CEP). The program gives students from UQ's Faculty of Business, Economics and Law hands-on experience working with not-for-profit and community groups.
Team members Clarice Langa, Sarah Lucas, Janina Manalo, Shy Nayar and Joy Yang received the winning team prize at the recent CEP awards. Team leader Ms Lucas also claimed the winning individual prize for her exceptional project management, leadership and enthusiasm.
St Vincent de Paul Society Queensland State Centres Support Manager Andrew Claridge said they had asked the team to design a model to process and repurpose excess clothing donations.
"Only a certain amount of clothing can be sold in our stores, so what we're looking to do is find other uses for the clothing that is unsuitable for sale," Mr Claridge said.
"At the moment, these donations are exported overseas to countries like Indonesia, Fiji, China and India. Much of it ends up in landfill after some time.
"It's key for us to find an alternative that is not only environmentally and socially sustainable but also profitable, and use that revenue stream to give Queenslanders facing hardship a hand up."
After weeks of careful planning, the student team presented their in-house recycling process idea to St Vincent de Paul Society Queensland stakeholders.
Their idea has two main components: improving the current donation sorting process to ensure clothes are separated into categories (for example, into natural or synthetic fibres), and introducing textile recycling machinery to recycle material on-site.
For the long-term, the team developed a plan to educate donors on how best to donate their goods, including introducing new signage, retraining staff and developing take-home marketing materials.
Despite the time constraints, the team also came up with a laundry list of future recommendations to generate revenue and create employment opportunities.
Ms Langa said introducing the recycling machinery could bring in work for locals.
"The idea would be to place workers in the donation warehouses to process the machines that are breaking down the synthetic material," she said.
Ms Langa said their other recommendations included supplying recycled material to design colleges and institutes, partnering with supermarkets to create reusable shopping bags, and collaborating with university researchers to ensure St Vincent de Paul Society Queensland remained at the cutting-edge of textiles recycling.
Mr Claridge said working with the CEP student team was a "fantastic experience".
"They brought some fresh ideas to the table, and I could see the passion they had for the project and how eager they were to get some good results for us," Mr Claridge said.
"We're very keen to continue with the Community Engagement Program in 2018. After the presentation, we were already thinking about the next steps we could take."
Ms Langa said she was proud to partner with St Vincent de Paul Society Queensland.
"It's not necessarily a problem they're obligated to fix, but they're looking at the long-term and taking some initiative to improve their processes," Ms Langa said.
"Everything they do stems from that idea of giving people a hand up; it's very inspiring.
"I think excess clothing is a problem we're all part of. We have the power to impact the environment and the community, and the choices we make actually have an effect. We all need to think about how we can do better; landfill isn't a viable solution."
108 students completed 26 projects during this semester's program – a CEP all-time record.
BEL SET Employability Specialist and CEP Coordinator Carlene Kirvan said she was impressed with all participating students.
"Their understanding of the project, commitment, teamwork, leadership and consistent high standard of work is what ultimately drives the best outcomes for the participating organisations," Ms Kirvan said.
"The students also benefit a great deal. CEP boosts their employability, not only through the hands-on activities they take part in that allow them to apply their knowledge and practise soft skills but also by helping them stand out as applicants beyond their GPA."
Other participating organisations included Choice, Passion, Life, Connect2Group, Croquet Australia, Gliding Australia, Guide Dogs Queensland, Karakan, KBH Enterprises, Royal Flying Doctor Service, RSL Kedron-Wavell Sub Branch, Stage Queensland, The Lab Virginia, Variety – The Children's Charity and the YMCA.
CEP highly commended team awards went to project teams partnered with Karakan, the Royal Flying Doctor Service and Variety. Students who worked with Choice, Passion, Life and the Royal Flying Doctor Service also earned highly commended individual awards.
Read more about the mutual benefits of the BEL Community Engagement Program.
Media: Alysha Hilevuo, a.hilevuo@uq.edu.au, +61 (0) 428 884 097.
This story was originally published by the BEL Faculty, view the original article here.