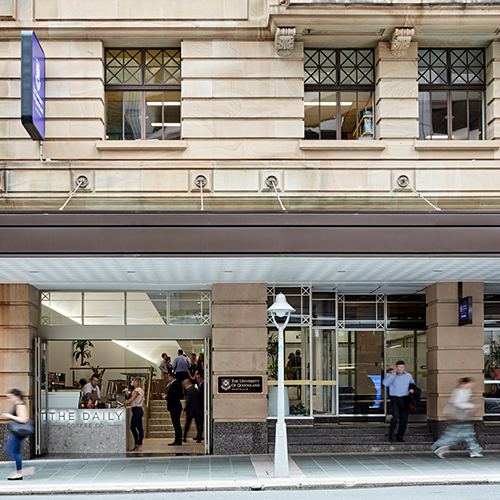 Executive education and postgraduate study opportunities will now be more accessible following the launch of The University of Queensland's new city site at 293 Queen Street, Brisbane.
The site is based in a refurbished, heritage-listed building at the centre of Brisbane's financial district, and will be a vibrant learning hub operated by the University's Faculty of Business, Economics and Law.
It will welcome students from UQ's Master of Business Administration and postgraduate business programs and executive education courses from this month.
UQ Vice-Chancellor and President Professor Peter Høj said the exceptional learning and meeting space would be a unique place where students could innovate and interact with industry, government and alumni.
"Our new site presents a rare shopfront in the business world, improving access to professional development opportunities for current and future students and confirming UQ's position at the forefront for learning and networking in a globalised economy," Professor Høj said.
"Like our graduates who create change in their workplaces and communities, UQ has reimagined how higher education can be experienced and now we are delivering it differently."    
As part of the multimillion-dollar project, UQ has leased and refurbished three floors in the building (ground floor and Levels 6 and 7) for students, alumni, partners and staff to have direct opportunities to connect with key decision makers and influencers.
The ground floor and Level 6 are dedicated to teaching UQ's business, economics and law postgraduate programs and executive education courses in smart, functional and flexible facilities.
On Level 7, the focus is on business interaction. The Executive Lounge for alumni and staff is a fully-equipped business hub and will offer corporate meeting spaces available for hire.
The Daily Coffee Co. café on the ground floor, run by the award-winning team from Customs House, is open to the public as well as being a convenient meeting place for visitors.
Patrons can join UQ's Not If, When – the Campaign to Create Change, with 20 cents from every coffee purchased donated to a choice of causes including UQ research, student scholarships and start-ups, and community projects that involve UQ students, alumni or researchers.
Global architecture firm Woods Bagot partnered with UQ to restore the 91-year-old building's impressive street presence and transform three interior floors into contemporary, accessible and functional spaces for learning, collaborating and doing business.
Wood Bagot Associate Principal Sarah McMahon said the similarities between the Queen Street building and the University's St Lucia campus went beyond the sandstone and inter-war building styles.
"We aimed to strengthen the relationship between the University and the city by creating an integrated education precinct with a recognisable street level presence that welcomes the city's people and visitors into UQ's world," Sarah said.
"Now beyond a threshold of heritage significance, we have a dynamic and flexible space that blurs the boundaries between a university space and contemporary workplace."
The site will be officially opened in February 2018.
For more information about UQ Brisbane City, visit bel.uq.edu.au/brisbane-city.
To enquire about meeting spaces for hire, please email venue@business.uq.edu.au. 
Media: Gemma Ward, Faculty of Business, Economics and Law, g.ward1@uq.edu.au, +61 (0) 439 651 107; Alysha Hilevuo, a.hilevuo@uq.edu.au, +61 (0) 428 884 097.
This story was originally published by UQ News, view the original story here.