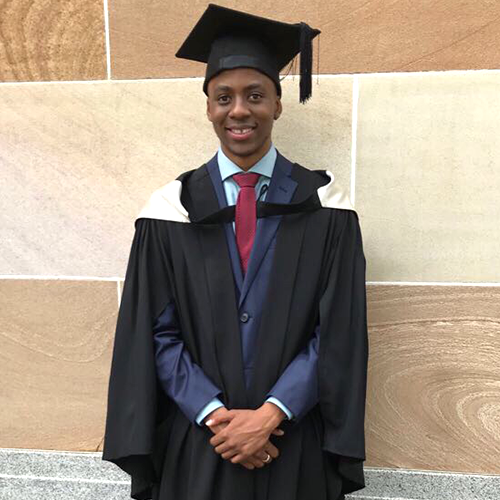 As he gave the valedictory speech at his graduation ceremony, award-winning entrepreneur, youth leader and 'global changemaker' Nkosana Mafico can add yet another title to the list – that of academic researcher.
The Zimbabwe-born student, aged just 23, has already led a tech start-up through a funding round, started a social enterprise and represented Australia at international business events. Although he has always considered himself as 'an entrepreneur and not a researcher', he has now completed his Bachelor of Business Management Honours and is enrolling for a PhD with UQ Business School.
Nkosana moved to Brisbane with his family at the age of ten. He gained his first taste of business selling cold drinks and game cards to fellow students in high school. By his second year of studying a business degree at UQ Business School, he had already co-founded two technology ventures, one of which - an English language pronunciation tool - won backing from Telstra.
It was the start of an exciting journey as he flew around the world securing partnerships with English education providers, but it meant that Nkosana would have to work full time with the business. Impressively, he managed to continue with his studies.
"I loved UQ and there was no way I was going to transfer to another university, so I opted for part-time uni, and full-time work with Telstra in Sydney," he says. "I couldn't attend any of my lectures and tutorials that year and literally flew back for exams. It was incredibly hard work, but I thank my lecturers for being so accommodating and supportive."
Shortly afterwards, he founded the Council for Young Africans Living Abroad (CYALA), a social enterprise which challenges the negative image of Africa portrayed in the media by helping to develop young Africans as future leaders. So far, it has delivered over 30 professional development workshops for over 900 African youths.
Adding to his achievements, in 2014 he was awarded the Brisbane Lord Mayor's Budding Entrepreneurs grant and represented Australia at the G20 Young Entrepreneurs Alliance Summit. A year later, he was a finalist at the Global Student Entrepreneur Awards in Washington DC. In 2016 Nkosana gave a talk, The phenomenal mindset of Africa's future leaders, at the TEDx UQ Future Frontiers conference.
Nkosana had never considered academic research until a conversation with one of his undergraduate professors inspired him to apply for an Honours degree. "I remember feeling very nervous as I knew this was going to be my biggest and toughest academic challenge to date. I chose to study at UQ, because I had a wonderful experience completing my undergraduate studies here. I knew UQ's focus on research would enable me to produce great work.
"The highlight was getting ethical clearance to start conducting interviews for my thesis. Until that moment, I had focused on reading other people's research. Collecting data was finally my chance to produce new knowledge and I found this idea incredibly exciting."
His thesis aimed to understand how the experience of different national cultures influences social entrepreneurs' decision making.
His advice to others considering a post-graduate honours degree?
"Just apply," Nkosana said. "If you are accepted, yes it will be challenging, but it's the most rewarding experience. You will learn so much and come out the other side with much improved skills such as writing and critical thinking. You will also graduate alongside an elite group of business students and always be a part of the UQ Business School alumni."