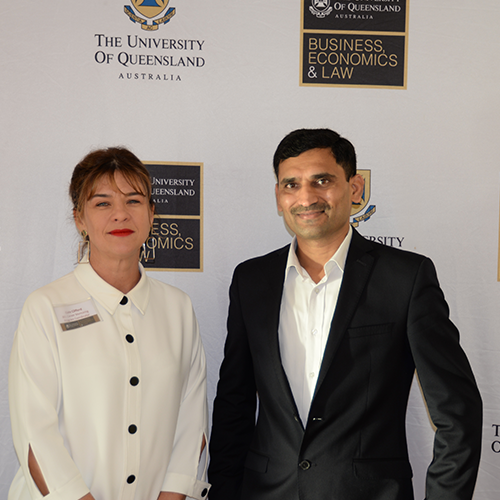 Bhatu Pawar is currently studying his Graduate Certificate in Executive Leadership at UQ Business School and has recently secured a middle-management advisory role at EY with the help of the The University of Queensland's Business Economics and Law Student Employability Team (SET).
Bhatu moved his family over from India to Australia in 2011 to undertake his studies at UQ after deciding to combine his engineering qualifications with a business-focused career.
"UQ is setting a new benchmark for the world in innovation and technology. It's one of the few universities where you can find the perfect blend to achieve career success in both technology and business studies," he said.
During his time at UQ Business School, Bhatu became involved with the Student Employability Team by participating in their Career Mentoring Program, an optional program that provides students with advice and guidance from an industry mentor.
"I only spent a few hours in the program but it paid off significantly. I got an opportunity to work with David Crombie (his industry mentor), who gave me exceptional leadership guidance and advice for a professional career."
Once he completed the mentee program Bhatu returned the favour by becoming a mentor himself and providing career advice and guidance to students.
Employability Specialists Cate Clifford and Ryan Webb from the Student Employability Team were able to provide invaluable support and guidance to Bhatu to assist him in finding a career that met both his engineering and business degrees.
Bhatu reflects on his first meeting with the BEL SET team, "My first meeting with Ryan was about my career and finding a way forward. During the discussion, I got overwhelmed. I could see my family from the meeting room and at that time we were going through a tough phase," he recalls.
"Ryan and Cate were always with me to support and guide me. Whenever I attended a workshop or meeting, I had a unique learning experience and that was priceless for me," he said.
Bhatu's advice to students looking for employment or an industry mentor is to never underestimate your potential and to always reach for the highest possibilities.
"Always be yourself. Set yourself high targets because aiming low is a shame but failure is not."
To find out more about how the UQ Business Economics and Law Student Employability Team can help you, visit their website.