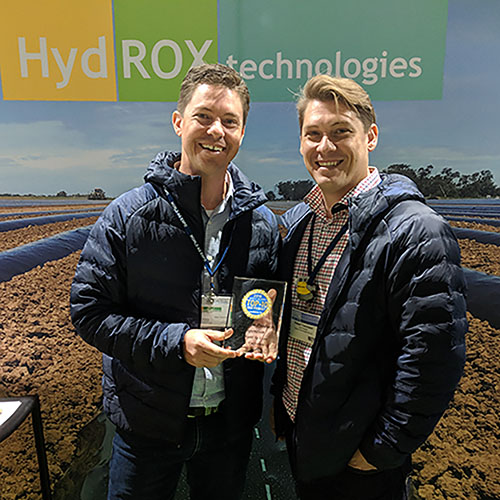 An innovative plastic film, developed by two former UQ Business Management students to help boost crop yields and improve on farm efficiencies, has been named as one of the 'World's Top 10 New Agricultural Products for 2018' at the World Ag Expo in Tulare, California.
Solar Shrink mulch film was launched in 2015 by Mark and Rob Trenchard and has already captured more than 50 per cent of the market in Australia. Now the brothers are seeking investment to allow their company, Hydrox Technologies, to expand internationally.
Sponsored by Bank of America, The Top 10 Award from World Ag Expo, the world's largest agricultural show, is the latest accolade for the business. Rob was recently named number 15 in the list of Brisbane's top 40 young entrepreneurs by Business News Australia.
The brothers' success is all the more remarkable given the challenges they have faced. Mark and Rob, who have a family background in plastics manufacturing spanning three generations, started their first business in 2001 whilst both studying at UQ Business School.
Using second-hand machinery that they modified themselves, they experimented with new types of biodegradable plastics to make retail check-out bags. However, finding that they were unable to compete with low cost Chinese imports, they decided to focus on plastic films for the agricultural market, manufacturing banana bunch covers, cucumber wrap and working towards developing an ultra thin, ultra strong agricultural mulch film.
Just as business started to take off, their factory premises were submerged in the 2011 Brisbane floods and all of the machinery was destroyed. Undeterred, Rob, supported by Mark salvaged and rebuilt one of the flood damaged machines and started Hydrox Technologies in 2014, launching Solar Shrink mulch film in 2015.

Rob and Mark said of their time at UQ,
"We both really enjoyed our time at UQ Business School and starting a business while we were there meant we could put our knowledge into practice. Since then, we have seen first hand, the challenges facing Australian manufacturers with competition from low priced imports. To overcome that, we have focused on innovation."
"Solar Shrink is a unique product allowing farmers to use up to 30 per cent less plastic when mulching their fields, reducing the initial purchase cost and the expense of using the plastic, retrieving and disposing of it. We are delighted with these latest award wins. Hydrox has been flying under the radar for a while, and it's great to receive the recognition for all the effort."
Their most recent trip to the USA saw Hydrox Technologies introduce Solar Shrink to the US National Watermelon Association Convention in Nashville, Tennessee. Mark said of the convention, "The reception received by Solar Shrink was fantastic; we have returned with requests for trials from farmers totalling 35,000 acres and we are more confident than ever that Solar Shrink will prove to be a great solution for both our Australian and American farmers."