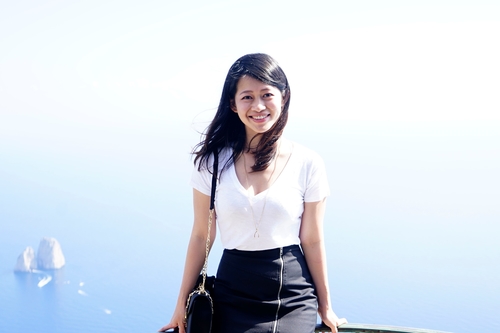 After discovering how difficult it was to find reliable educators for young children, mum of two Lim Ee Ling quit her job in investment banking to launch edtech platform Smarter Me, along with her husband Liaw Yit Ming and two co-investors. The site, which went live in April 2017, lists more than 150 education providers offering over 1,000 different courses. Ee Ling is the company's CEO, while Yit Ming is Chief Strategy Officer. The couple live in Singapore with their two children Katrina, 11, and Charlotte, 8.
The Bachelor of Commerce alumna shares her career journey…
What childhood influences shaped your career?
My mother was a teacher and growing up, I saw the amount of effort she put into continuously improving her teaching materials, and the time spent communicating and bonding with students. That sparked the desire in me to teach, and I first started in a temple and taught arts and crafts to kids, when I was in college. My dad on the other hand was an insurance broker who dabbled in stocks investments. His interest in finance inspired me and I went on to do a Bachelor of Commerce majoring in Finance at UQ Business School.
Tell us about your career journey — how did you get to where you are today?
After completing my degree in 2007, I spent almost ten years working in investment banking, mostly at Bank of America Merrill Lynch. I loved the job and it was always challenging, but ultimately I wanted to make a difference and came back to education — something I was always passionate about.
From experience with our children, I knew just how difficult and time-consuming it was to find suitable classes and instructors. I co-founded Smarter Me to save time for parents, and to inspire young children and help them discover their passion from the many different learning opportunities that Smarter Me provides.
What is the best part of your job?
Whatever I am doing, I know I am making a difference and contributing to children's futures and every single day, I am learning something new. I think the other part is the ability to be truly authentic and honest. We go to great lengths to ensure the quality of the lessons, curriculum and the instructors we provide, I strongly believe in its value-add to children, and so I'm never in the position where I'm hard selling something that I don't believe in.

What is the most challenging aspect?
Running a startup is always challenging and you constantly have to evolve, but the most challenging part is understanding human behaviour. Success goes beyond building a great product, it's about connecting with consumers. Our customers are parents, which is possibly the most complex role that a human can have, and we are constantly trying to understand how best to support them.

What key lessons did you learn from your time at UQ Business School?
UQ has always been strong on research and communication, and those two things are central to my role. Also as a member of the global youth-led organisation AIESEC, I had to learn to connect overseas corporates with students locally. We had to do cold calling, pitch to business people and convince them to provide internships and other opportunities for our members.

What are your future plans?
We are launching an online school to teach key future skills such as coding, robotics, entrepreneurship and design thinking to kids and teenagers. I want to continue to inspire children to discover their purpose and passion and find their own success.

What mentor or inspirational figure has influenced your career?
There's an old saying, it takes a village to raise a child. I think it takes a village to raise an entrepreneur. My influencers include my husband, who gave me a push when I was comfortable in banking, my mum, who is an eternal teacher, my professors and teachers, who were able to look beyond the academic syllabus and made learning relatable and relevant, and most of all, my late father.
Throughout my childhood, he always reminded us that we must always care for humankind. It took me a while to really understand what he meant, but even while I was working in the fast paced world of finance, his words always stuck in my mind and that's what brought me back to education.
Do you have a motto in life?
Two things spring to mind. Always be curious, always learn – this is particularly important in today's changing world. The good news is that there are now so many avenues for learning. You don't even have to go to a physical class, you can learn online but the important thing is to make the time to do so. Secondly, it always seems impossible until it's done – and there is no time like the present to do it!