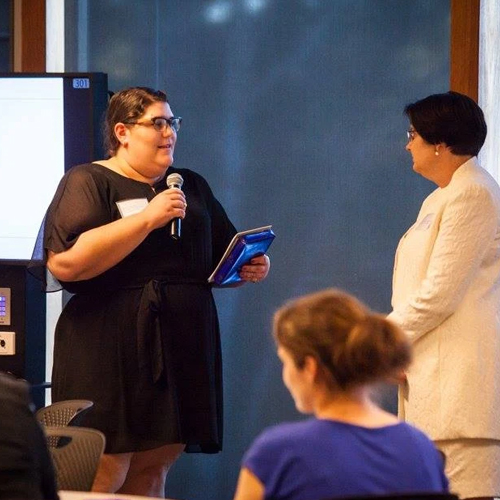 This article was originally published on UQ Small Change, on 20 July 2018.
---
Bianca Goebel is only 27 but has already accomplished many things. The latest is a Master of Business Administration at UQ.
From starting out as an engineer at a coal mine to the CEO of a charity – and now an MBA graduate at The University of Queensland – it has been a busy few years for Bianca Goebel.
In addition to her job and studies, in the past seven years Bianca has held more than a dozen board and volunteering roles.
"I love learning and I love a challenge," she said.
"I try to say yes to every opportunity where I think I can dedicate the time and do a good job."
After studying chemical engineering at UQ, Bianca spent four years at Origin Energy, working in water and sewage plants and helping to improve the design of coal seam gas wells.
Working on a 'fly-in-fly-out' roster, she also found the time to help set up an engineering camp giving underprivileged youth a taste of university life through the not-for-profit, Youth Without Borders.
When the opportunity arose to become the organisation's CEO, she resigned from her job and took up the challenge.
Over the next two years, she built the senior leadership team, doubled membership and increased the organisation's income.
Keen to develop her business acumen, she embarked on a part-time MBA at UQ Business School.
During her studies she was elected to the UQ Academic Board, became Co-Chair of The UQ Young Alumni Advisory Board, Chair of the Women in Engineering Alumni Council, Co-President of the MBA Consulting Club and participated in an MBA Immersion Tour to India.
In 2017, she was part of an Australian delegation which travelled to Pakistan, representing PACE 48, A UNESCO-supported, youth-led initiative Promoting Access to Cultural Education across 48 Asia Pacific countries.
There they met with Punjab government ministers to enhance relations between the two nations and develop links with local youth organisations.
Bianca is now a GlobalShaper – a World Economic Forum initiative which connects young people working to solve local, regional and global challenges.
Next on the agenda is a return to engineering.
"Engineering gives you lots of transferable skills so you can easily move into other industries," she says.
"Working in the not-for-profit sector has given me a chance to really make a difference, but now it's time for me to go back to engineering.
"The MBA has complemented my technical background with business knowledge and enhanced my management and leadership skills.
"I will, of course, continue to seek new opportunities to learn and grow as I always have".
Read the full article at Small Change.