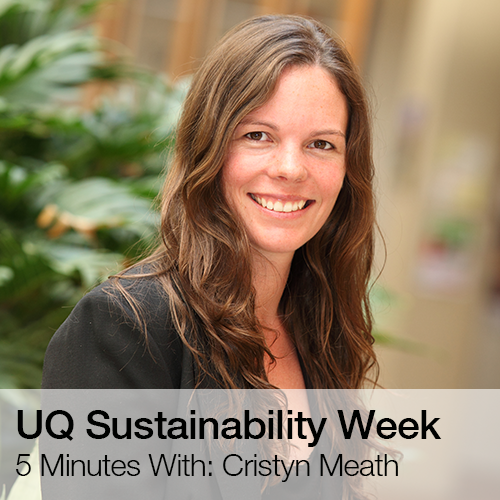 Cristyn Meath is a Postdoctoral Research Fellow with the Australian Institute for Business and Economics (AIBE) and sessional lecturer at UQ Business School. We spent five minutes with Cristyn to find out about her current research in sustainability:
1. Can you briefly tell us about your research in sustainability and the impact you're having with industry and the community?
The planet simply cannot sustain business as usual in respect to current natural resource consumption practices by organizations. Impacts are already becoming evident in many industries including my area of research, Construction and Manufacturing. We have seen significant financial impacts to some companies who are not prepared for the growing severity of natural capital decline and this will continue to increase over time. Investigating decision making within these highly impacted sectors has uncovered how good strategies are developed to manage such challenges. This is critical to provide guidance to companies and assist in the smooth transition to new, more sustainable practices which will be forced upon companies as resources continue to decline.
2. Can you tell us a little about your role with the Australian Institute for Business and Economics (AIBE)?
I collaborate with industry partners and leading scholars from around the world to deliver critical insights to organisations, policy makers and academia on emerging corporate sustainability issues. I also lead the AIBE Sustainability Research Group which supports academics within the Business, Economics and Law Faculty to progress high quality, industry-relevant sustainability research.
3. What's your outlook for sustainability in the future?
I'm committed to communicating leading strategy and sustainability research to the future generation of executives. I'm also committed to developing new teaching methods and tools that are reflected in my Decision Making and Reporting for Sustainability course offered in the Master of Business program at UQ Business School.