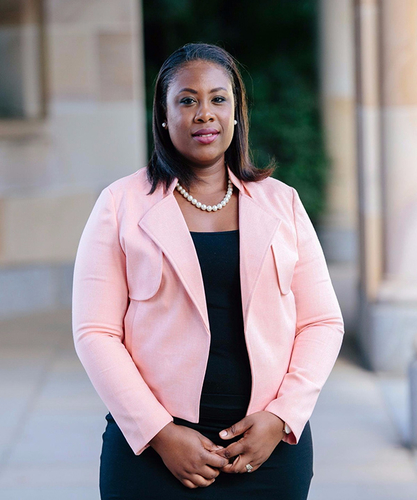 Dr Cle-Anne Gabriel isn't one to let a glass ceiling get in her way. The University of Queensland Business School strategy expert is driven by a passionate and urgent need for global sustainability. As the School Director for the United Nations Principles for Responsible Management Education, Cle-Anne says she has overcome a steep learning curve to bring her own style and approach to the rewarding leadership role.
However, the corporate consultant who turned to academia says she doesn't recall a conscious decision to focus on sustainability.
"I think in many ways sustainability chose me – there were some environmental issues I was passionate about in my youth, so I decided to pursue those and never stopped."
Self-described as passionate and determined, Cle-Anne founded and ran her own sustainability consulting business, working as a policy advisor and external counsel to industry and government internationally, before making a career-changing move to become a researcher.
What's the best advice you can give to women wanting to progress up the career ladder?
Do not undervalue your time, skills and experience. It's important to find women mentors or sponsors, if not in your workplace then at least in your industry. Looking at the women around me with successful careers, I've learned that no one really does it alone, and it helps to hear the stories of others.
Why do you think education is important in advancing a woman's career?
I think education exposes us to experiences that drive our self-determination, it prepares us to embrace new opportunities that advance our careers.
What do you think is the most significant barrier to female leadership?
Well, the glass ceiling is one – the lack of opportunities available or offered to women to take on leadership roles. We need to say yes to the available leadership opportunities more often. That ties back to valuing our own skills and experiences.
How can future leaders integrate sustainability into business?
There are always small sustainability 'wins' we can achieve in business. However, given the urgency of the environmental changes we are currently experiencing, I don't think what we need is to integrate sustainability into business. I would flip it around… Instead, we need to find a way to integrate business into the global sustainability agenda – this is one of the grand challenges of our time.
How do you define success?
I define success as contentment, but this does not mean settling. The question I ask myself is, are you content with where you are right now and where you are headed? Most times the answer is 'yes', then that for me is success.
Who was your support network to help you get to where you've got today?
I have been extremely lucky over the years to have met people (men and women) in every single country I've lived in who gave me opportunities to lead and to grow professionally and personally.
What I'm most grateful for is my family, and the unwavering support of a few close friends here, and also in New Zealand, Germany, and Trinidad and Tobago. 
Invest in the skills you need to be a trailblazer with our Executive Education courses.
Media: Dr Cle-Anne Gabriel, c.gabriel@business.uq.edu.au, +61 7 334 68148 or  Emma Pryor, UQ Business School Communications, e.pryor@business.uq.edu.au, +61 7 3346 4506