A leader in cyber security, data science and artificial intelligence will head up The University of Queensland's prestigious Business School following a competitive global search.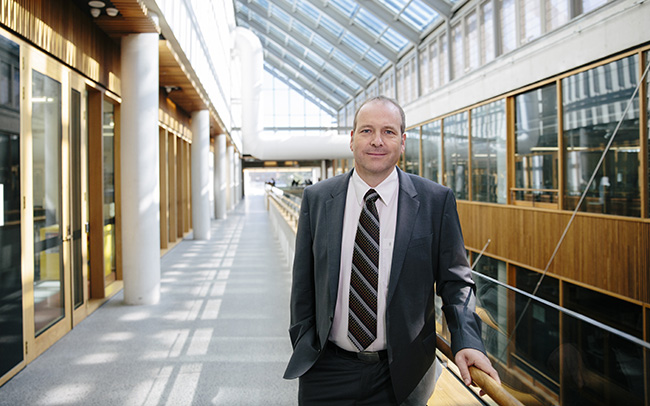 Professor Michael Bruenig will commence his role of Academic Dean and Head of School in August.
He is currently the Head of School for UQ's School for Information Technology and Electrical Engineering, and previously worked at CSIRO where he led the initiative to establish a National Research Flagship on Digital Productivity.
Professor Bruenig said he was looking forward to joining the Business School and bringing his technological expertise and digital focus to build on its extensive capabilities and collaborations in the space.
"I'm honoured to lead and join a passionate team of educators, researchers and staff who inspire positive change in business and community both locally and globally," Professor Bruenig said.
"I want to champion a cutting-edge Business School that is deeply linked with industry and government, to take charge of initiatives that create business transformation in the areas of health, energy, agriculture, finance and entrepreneurship.
"I also see a significant opportunity to provide an outstanding student experience, and take ownership of learning that prepares our students for the unknown.
"In a constantly changing business landscape and workforce, we need an educational approach that leverages new technology and prepares students to be adaptable to future changes."
UQ Provost Professor Aidan Byrne and UQ Business, Economics and Law Executive Dean Professor Andrew Griffiths said in a joint statement that Professor Bruenig's appointment was welcomed by the entire UQ community.
"Michael has built his career at the intersection of research, technology and business, and across a diverse range of sectors and countries," they said.
"He has published widely, formed and managed several flagship projects and centres, and served on many prestigious committees and boards.
"At UQ, we are focused on equipping our students with the practical knowledge and transferable skills they need to drive innovation, shape new ways of working, and future-proof their careers in the global digital economy.
"As an expert in cyber security, data science and artificial intelligence, we believe Michael is a leader who shares this professional focus, and will work collaboratively with our valued School and alumni communities to positively transform business and society."
Professor Bruenig will start in his new role on Monday 5 August.
Media: Emma Pryor, (07) 3346 4506, media@business.uq.edu.au; Michael Bruenig, (07) 3365 3869, m.bruenig@uq.edu.au.