Kellie Davis joined the Royal Australian Air Force in 2008 as an Air Combat Officer (ACO) and spent most of her career as mission crew at 2SQN on the E7-A Wedgetail. One of her career highlights was deploying on Operation OKRA, which is the Australian Defence Force's contribution to the international effort to combat the Daesh terrorist threat in Iraq and Syria. Kellie also completed an instructional tour at the School of Air Warfare, training ACOs who have just commenced their career in the Air Force – teaching them skills from the basics of navigation through to controlling a battlespace.
After 10 years of military service, she was ready for a new challenge.
It was important to Kellie that as she transitioned out of Defence she would continue to learn and grow. Six months after transitioning out of the Air Force, she commenced the MBA program at The University of Queensland (UQ).
Why the UQ MBA
Ranked as the #1 MBA in Queensland and #2 in Australasia by The Economist in 2021, the UQ MBA empowers students to learn from some of the most awarded teachers in Australia while enjoying the flexibility of different program timetables.
But one of the biggest drawcards for Kellie was the reputation the program also had for a diverse and high standard of peers, ranking #1 worldwide for student quality (The Economist, 2021).
"I knew from the start that I was only interested in face-to-face (F2F) delivery because of the value associated with F2F learning. After some research into which universities I had available to me and their offerings, I discovered that one of the best MBA programs was right here in Brisbane."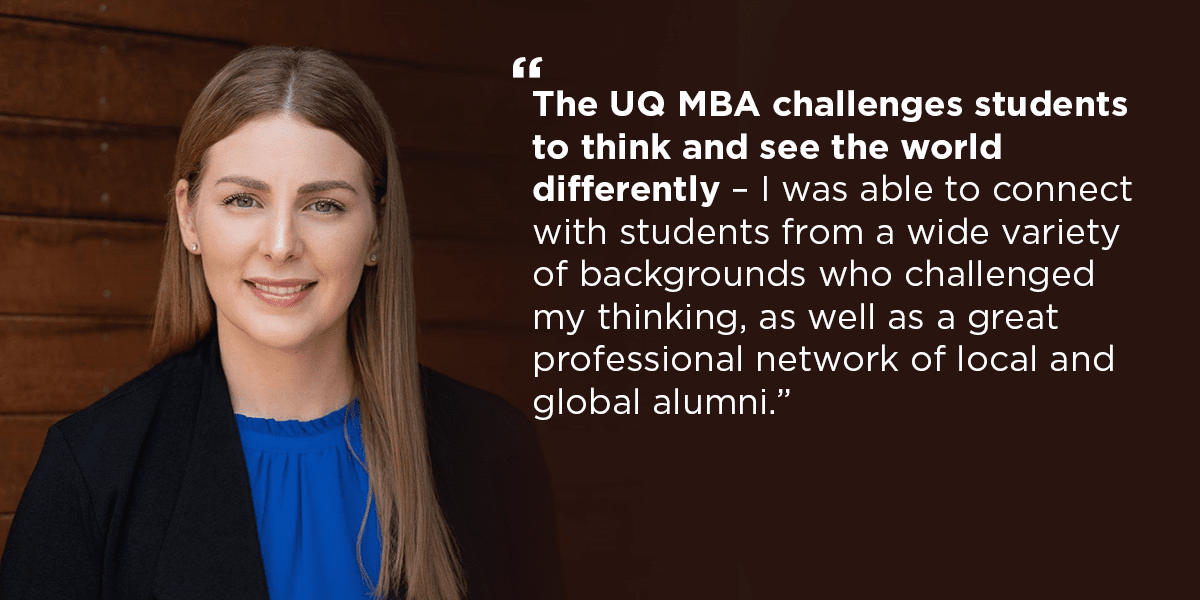 After attending a UQ MBA Information Session, Kellie learnt there was another benefit of studying her MBA at UQ – the MBA scholarships on offer. 
The MBA scholarship that helped Kellie take the next step
UQ Business School provides up to 3 Wandering Warriors MBA scholarships each year to defence force members or veterans actively making the transition to civilian life. These scholarships are available to outstanding domestic students who can be ambassadors for the Wandering Warriors initiative and commencing in the UQ MBA program. The scholarship consists of up to a 100 per cent tuition-fee waiver for students studying the MBA over 12 months, 24 months or via the flexible, part-time program.
"Military skills don't always translate readily or practically into the civilian world," says Kellie.
"As a transitioning Veteran, it is important to me to further educate myself and upskill to assist in gaining employment in the civilian world, where I can offer both my previously learnt military skills as well as my newly acquired business skills."
"The Wandering Warriors Scholarship and the opportunity to study at UQ has given me the chance to expand my education and step into a new career. I've had a great experience transitioning from the Air Force into a career in consulting working for Accenture, where I currently work on ADF projects."
Empowering change through education
Thanks to her MBA scholarship, Kellie is now completing the final capstone course as part of her UQ MBA while working full time and maintaining her status as an active Air Force Reservist, continuing house renovations and making sure she has time for family and friends.
"The different course offerings of the UQ program (weeknight, weekend and intensive study options) have meant that I have been able to continue my current lifestyle while studying. There are definitely surge periods required for study and assignments, but I make sure to balance those periods with downtime," Kellie says.
Kellie is passionate about encouraging other Veterans to consider how study can facilitate a career outside of the ADF and to see if there are scholarships available to help make this transition.
In particular, she encourages women in the Australian Defence Force to apply.
"Organisations today have realised the value of women in the workplace, with many having their own opportunities and initiatives in place to support and encourage them."
"I believe it is important for women to continue to grow through education, which is something the Wandering Warriors Scholarship can empower you to do."
Discover how the UQ MBA can open up opportunities for you.