Deciding whether to study your Master of Business Administration (MBA) in person or online can be tough. There are multiple factors to consider, including flexibility, cost and the quality of the program. While many MBA programs are transitioning to online delivery formats, there are still 3 clear benefits of studying your MBA with a face-to-face element.
What are the benefits of studying your MBA in person?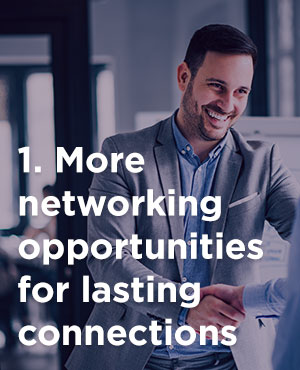 One of the main reasons people enrol in MBA programs is to develop their professional network. Studying your MBA face-to-face presents a myriad of opportunities, from working closely with staff and industry connections to meeting MBA alumni at networking events to develop valuable connections. 
The connections you build with your peers, teaching staff and even industry mentors can lead to opportunities and relationships that will support you throughout your career. As part of the UQ MBA, for example, many of our students start innovative projects and businesses together and are in positions to recommend each other for jobs and other exciting prospects.
And then there's also the social element of studying with a close-knit group of peers in person. Your shared experience can lead to friendships that will last a lifetime.
"The opportunity to be part of a challenging, yet collaborative and supportive ecosystem, comprising of such diverse and brilliant people, was a clear highlight for me. I left UQ with the added capabilities and professional networks, that not only supported my transition into a management consultant career, but also kick-started some innovative ventures with colleagues from the program". – Andrew Talbot, Operations Manager, Redpath Australia – Mining Contractors and Engineers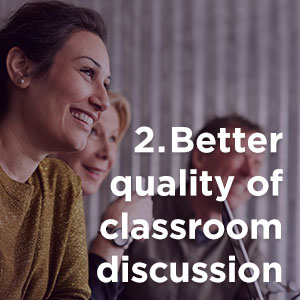 Another common reason people study an MBA is to challenge their thinking, collaboratively come up with new ideas and test those ideas through rigorous debate. Studying your MBA in person allows for rich, in-depth, meaningful conversations that lead to real insights and innovation.
UQ MBA alumnus and lawyer Ben Ricketts explains,
"The first thing that struck me when I started my MBA – I was in a room that wasn't full of lawyers, there were people from all career backgrounds, and they all had one thing in common; they were all motivated go-getters. It reminded me of all the reasons I studied law in the first place – to change things for the better".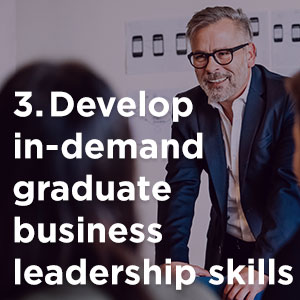 The 2018 QS Global Employer Survey revealed the skills employers thought were most important for MBA graduates to possess were (in order) communication, interpersonal skills, strategic thinking, management and leadership.
Studying in person gives you the opportunity to apply the leadership and management theories you learn about in class and practice your strategic thinking skills. For example, by working on group projects or through engaging classroom interactions, you'll learn to read the room and pick up on subtle nuances of behaviour and emotion.
You'll also hone your ability to present and communicate your ideas with confidence in front of peers, teaching staff and other industry professionals, skills that will be invaluable when pitching to clients, interviewing or managing teams.
Why study your MBA at UQ?
At The University of Queensland (UQ) Business School, we pride ourselves on being able to offer a quality MBA experience based on developing lifelong personal and professional relationships that will enhance your local and global networks and lead to exciting career opportunities.
Our cohort is ranked #1 for student quality
In 2019, the UQ MBA ranked #1 in the world for student quality by The Economist, which surveys alumni from the top business schools globally. This is because our in-person program connects students with people from all backgrounds with a shared passion for creating positive change for our communities.
Our students typically come from a range of different industries, with an average of 12.5 years of professional experience and around 6 years in management. The diversity and quality of our students lead to engaging classroom debates that challenge our students to think and see the world differently.
"The insight provided by my peers was often just as valuable as the content delivered by the academic staff, and was a major source of my personal and professional learning."- Grant Joy, Managing Director, Protegas Australia, and Director, Airus
Wider networking opportunities
The UQ MBA program also provides various programs including industry projects, global study experiences and exclusive events designed to connect students with a successful MBA alumni community and relevant industry contacts, further positioning you for career success.
"There are 3 things you can get out of doing an MBA: the content, the way the content is taught, and the relationships with the people you take the course with. I thought that last thing, the people you study with, would be an important part of the MBA and looking back, they've been an incredible part of my career journey so far. I don't think I'd be where I'm at without that network of those people". – Rob Sutton, Managing Director, Mirragin Unmanned Systems
Central location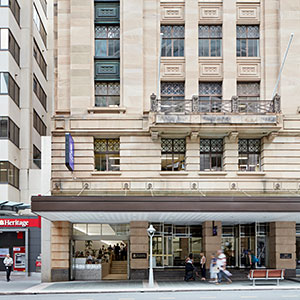 With a central location for all classes and events in the heart of the Brisbane CBD, studying a UQ MBA provides many convenient opportunities to interact with other business professionals you can learn from and network with in-class, at an event or over a coffee in the on-site cafe.
"For me, a non-negotiable when looking for an MBA program was the face-to-face component. I knew it would be easier to juggle an online MBA with my other commitments, but I wasn't doing the MBA to get a piece of paper, I wanted it for the interaction and network I'd develop during the process. I can't recommend a face-to-face MBA enough". – Helen Barker, Regional Manager, National Occupational Therapy
Are there any downsides of a predominantly in-person MBA?
One of the most common arguments against in-person study is that it isn't as flexible as many online programs. But with multiple ways to structure your studies around other commitments and priorities, the UQ MBA's focus on in-person education doesn't affect the program's flexibility, either. You can also enjoy the added benefit of choosing to study online, in person, or a mixture of both depending on your schedule.
It's the quality of people you'll study with and the personal and professional relationships you'll form during your studies that demonstrates the value of an in-person learning experience and puts the UQ MBA in a league of its own.
Discover what makes the UQ MBA unique and how it could transform your future.