Every MBA student starts their learning journey for different reasons. But, for most, it's to give them the skills, confidence, and reputation to make the transition from being a specialist employee to a senior manager, entrepreneur or social change agent.
For Phil Teuwen, the decision to undertake an MBA at The University of Queensland (UQ) Business School was all about embracing his passion for helping others get a good night's sleep while awakening his inner manager.
At a time when world events make getting a good night's sleep harder than ever, Phil, and the 15-strong team he oversees at the Wesley Hospital Sleep Disorders Centre in Brisbane, believe sleep has never been more important.
"Quality sleep can be life-changing," he said. "It is incredibly rewarding to identify and manage a disorder that can have a fundamental impact on someone's quality of life."
But it wasn't that long ago, pre-MBA, that Phil was kept up at night working out how to juggle his ever-expanding list of jobs, which included diagnosing and managing patients as a clinician, together with education and marketing roles at tertiary institutions.
It dawned on him that he would need to decide between becoming a dedicated clinician or undertaking further study to allow him to transition into a leadership role.
"I was spread pretty thin on the ground trying to do clinical work while also looking after a range of other business functions," he said. "I knew I would have to make a decision, and if I was going to consolidate and take on a more senior managerial role, I would need the qualifications and skills to support that."
"For me, the allure of an MBA was twofold: firstly, I needed to improve my understanding and theoretical foundations of some basic management functions; and, secondly, I needed to develop my leadership skills."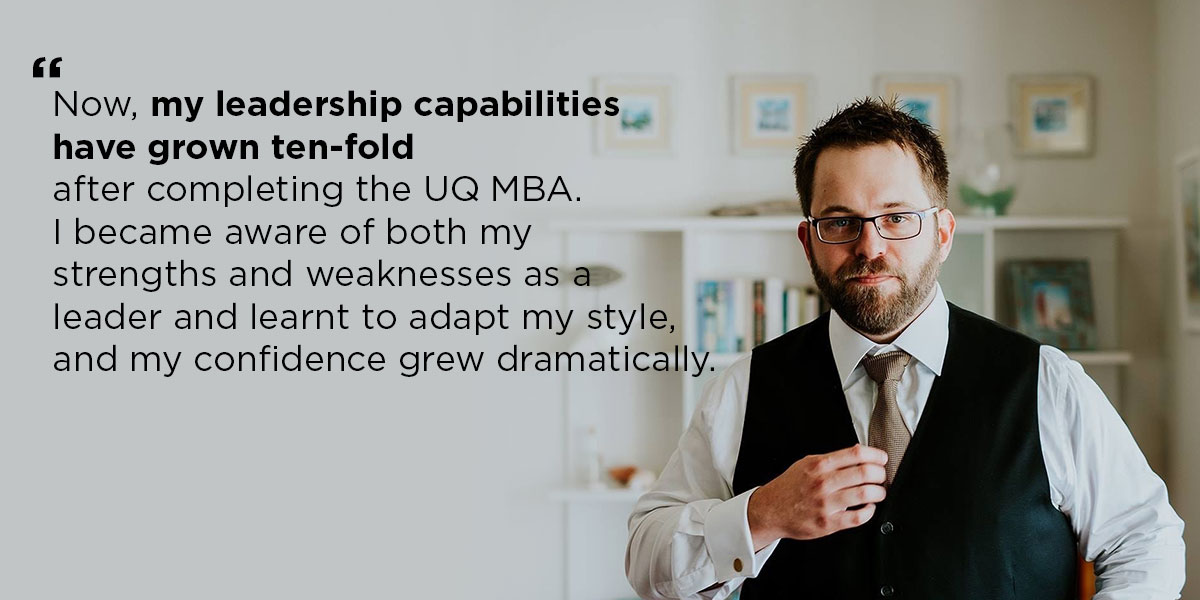 The Wesley Sleep Centre is a comprehensive clinical service utilising state-of-the-art technology in the evaluation of all sleep disorders with a team that includes specialist physicians along with scientific, technical, and nursing care staff who practice across multiple areas of lung and sleep health.
After completing his Bachelor of Science, Phil spent more than 10 years as a polysomnographer (someone who studies and diagnoses sleep disorders) and clinical educator with Genesis SleepCare and Queensland Health. As his career developed and his roles became more senior, Phil found himself dealing less with clinical priorities and more with a complex array of organisational and business challenges.
After investigating a range of possibilities, Phil landed on the UQ MBA because of its highly regarded reputation and flexible study options.
The program's flexibility became paramount shortly after he started studying when Phil landed his coveted position with the Sleep Disorders Centre at The Wesley Hospital.
"It was the perfect role and cemented the transition away from clinical work to putting all my energies into building an efficient, reputable, sustainable business," he said. "However, it also meant I had to dial back my study commitments a bit to make sure I was giving both my job and learning 100%."
After powering through the first half of the program, it ultimately took Phil another four years to complete the degree. It was a commitment he was happy to make, and his persistence paid off when he won the Personal Transformation Award at the 2019 UQ MBA Awards.
One of the many highlights of the UQ MBA program was the option to participate in the Global Consulting Practicum held by UQ Business School in partnership with The Wharton School at The University of Pennsylvania.
The five-month project involved working with predictive maintenance software company, Dingo Software. The project helped develop a market entry strategy for Dingo as it looked to ramp up its presence in the mining sector. Some of the opportunities identified as part of the practicum ultimately resulted in Dingo spinning off a new FinTech start-up business (Coaxion) offering innovative asset leasing solutions.
"The opportunity to work alongside some incredibly smart people and a real-world client was an experience I won't forget anytime soon," he said. "It was a great learning experience and a lot of fun."
Over the past few years, UQ MBA students have delivered projects for more than 25 industry partners, including Lorna Jane, OneSteel, the Australian Rugby Union, Place Design Group, Ludowici Seals, QIC, the Australian Defence Force, and many more.
Phil remains a strong advocate of the MBA as a tool to redirect your career and has referred a few of his colleagues to the program. He also remains actively involved as a mentor to current UQ students who are delivering these immersive client-facing projects.
"The UQ MBA program changed who I am as a leader. I am much more confident in how I go about my work to create change and really add value," he said. "I got everything I wanted from this and much more, I didn't think it would give me as much as it did.
"I thought I would just get a few new letters to put after my name, not all of these great experiences and opportunities with such a high calibre network of peers from the program."
Discover why the UQ MBA is #1 in QLD