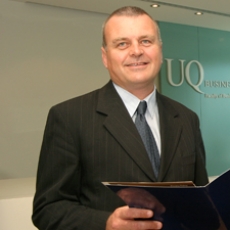 UQ Executive Dean Professor Tim Brailsford has been appointed to an influential new committee charged with preparing international business education for the future.
The Blue Ribbon committee announced by business education peak body the US-based AACSB will be made up of leaders from business alongside leaders in business education.
Chairman of the Board of AACSB International, Dean of Business at the University of California Andrew J. Policano, said it was imperative that business schools prepared students for both the challenges and opportunities in the world of business.
He said, "The establishment of the Blue Ribbon Committee will allow AACSB and leaders of business schools worldwide to thoroughly review the global environment of business, and make certain accreditation standards and processes effectively align with the many factors impacting businesses today and in the future."
Professor Brailsford said he was honoured to be invited to join a committee that would have a hand in shaping international business education going forward.
He said, "The committee will undertake a comprehensive review of the AACSB accreditation standards, eligibility criteria, and the accreditation process."
"There is a rising demand for quality assurance across the globe and organizations like AACSB International play a pivotal role in ensuring that accreditation standards and processes meet best practice expectations of all stakeholders including those of the corporate world."
Co-Chairs of the Blue Ribbon Committee on Accreditation are Thierry Grange, Dean and Director General, Grenoble Ecole de Management (France) and Richard E. Sorensen, Dean, Pamplin College of Business at Virginia Tech (USA).
Joining Professor Brailsford on the committee are academic and business leaders including retired National Director of international accounting firm Grant Thornton LLP George Krull, Michael Patry, Director of HEC Montreal, and Ajit Rangnekar, Dean of the Indian School of Business.
UQ Business School was the first in Australia to earn both AACSB International accreditation and the European accreditation EQUIS. In 2009, the School was reacreddited by EQUIS for the full term of five years – the strongest possible endorsement of the School's quality credentials.
The UQ Business School MBA was ranked 81 in the world by the The Economist in 2010.