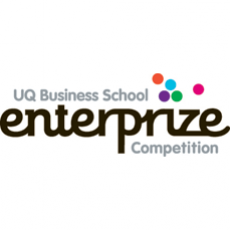 Australian entrepreneurs behind a drug to slow down the formation of cataracts, a tool for faster patent searches, and a new way to prevent corrosion and odours in our sewerage systems, are among the five finalists for UQ Business School Enterprize 2011, the nation's richest business competition.
The competition this year attracted a diverse range of entries ranging from medical and scientific breakthroughs, commercialising open-source software solutions, to ways to address contemporary challenges such as alternative fuels and new water treatment processes. The five Enterprize 2011 finalists, selected by an expert panel of judges, will now submit comprehensive business plans to compete for the $100,000 prize.
Academic Dean and Head of the UQ Business School, Professor Iain Watson, said the record number of entrants and their diversity of ideas was a testament to Australian ingenuity.
"The calibre of entries for Enterprize 2011 was exceptional and I would like to thank and congratulate all the entrants for coming up with business concepts and plans that showed amazing innovation and enterprise.
"All five finalists demonstrated smart, new ideas and an ability to articulate a vision for their businesses," he said.
The Enterprize 2011 finalists are:
Calpain Therapeutics
Calpain Therapeutics is aiming to bring to market a world-first drug to delay the onset of cataracts or slow their progression.
HaystackHQ
HaystackHQ has devised an online tool for faster and more efficient international patent searches and analysis of complex patent data.
Cloevis
Cloevis has developed a novel low-cost chemical mix, integrated with dosing optimisation software, to stop corrosion in concrete sewer pipes and prevent associated odours.
AquaHydrex
AquaHydrex has developed an innovative low cost fabrication technology that enables effective use of synthetic calalysts to split water into hydrogen and oxygen. This will provide an inexpensive, low carbon footprint hydrogen to the petroleum, chemical, food and steel industries.
Kaggle
Kaggle is an internet hub that hosts global competitions to build predictive models. Kaggle posts clients' data on the hub specifying how it wants to predict the future from data about the past. The global competition effectively matches the client's problem to the world's best analyst for it – the winners of the competition.
After the Enterprize finalists submit their detailed business plans, they will receive support and coaching through UQ Business School.
They will then have their final chance to impress the judges and showcase their plans to venture capitalists and angel investors at a "Pitch Day" on October 13, when the winner will be chosen.
Since its inception, Enterprize has helped launch many successful businesses, including Fusion Sport, Codesion (formerly CVSDude), BakBalls, last year's winner Southern Innovation and finalist Vaxxas.
Melbourne-based Southern Innovation recently announced it had signed its first worldwide licensing agreement with US firm XIA LLC. XIA has incorporated Southern Innovation's SITORO accelerated analysis technology into its new FalconX digital pulse processor, the world's fastest X-ray processor, which will provide rapid, accurate analysis in a wide variety of scientific and industrial applications.
David Scoullar, Managing Director, Southern Innovation said: "I can't emphasise enough how crucial winning Enterprize last year and the $100,000 prize was in enabling us to achieve this milestone."
Last year's finalist Vaxxas, which is pioneering a needle-free vaccine delivery system called Nanopatch, has received a boost after a consortium of investors put up $15 million for its development. The money will enable UQ's Australian Institute for Bioengineering and Nanotechnology (AIBN) Professor Mark Kendall to continue research and development of the Nanopatch.
For media inquiries, please contact:
Colleen Clur, Niche Consultants on phone (07) 3368 1230 or mobile 0418 253 340
Jess Staats, UQ Business School on phone (07) 3346 3296 or 0418 755 622
Contact details for Enterprize 2011 finalists:
Calpain Therapeutics: Tim Lovell, founding CEO and Managing Director, mobile 0488 122 893, email: tim@calpaintherapeutics.com
HaystackHQ: Lachlan James, CEO, mobile 0407 903 673, email: lachlan@haystackHQ.com
Cloevis: Dr Tony Keating, UniQuest, mobile 0430 180 659, email: t.keating@uniquest.com.au
AquaHydrex: Chris Gilbey, Director Strategic Development, mobile 0414 223 763, email: cgilbey@uow.edu.au
Kaggle: Dr Nicholas Gruen, Chairman, Kaggle 0403 077 732; 03 9646 0553, email: Nicholas.gruen@kaggle.com