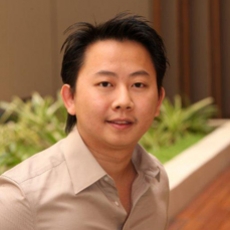 How do you explain a topic as complex as 'State-dependent correlation structures in modern portfolio management' in just three minutes? UQ Business School student Rand Low managed it so well that he was a winner in the semi-finals of an oration competition.
The Three Minute Thesis (3MT) competition challenges PhD and Masters students within the university to describe their research in just three minutes to a general audience.
Rand's PhD thesis focuses on the development of portfolio management strategies that, regardless of market conditions, persistently perform. Empirical out-of-sample tests are performed over the long-run for his study and the results are analyzed across a range of risk-adjusted measures incorporating loss aversion and robustness against non-linear payoffs.
Rand was the winner in the Faculty of Business, Economics and Law category. He said: "The 3MT competition was a valuable experience I'd recommend to all PhDs, early or late in their candidature. We often reach a stage whereby our minds are a colorful, complex kaleidoscope of beautiful theories and concepts. Henceforth, it becomes difficult to describe the work that we do because so much is involved."
The Three Minute Thesis (3MT) is a research communication competition developed by the University of Queensland. It is not an exercise in trivialising or 'dumbing-down' research but forces students to consolidate their ideas and crystallise their research discoveries. 3MT celebrates the discoveries made by research students and encourages their skills in communicating the importance of research to the broader community.
Rand will go onto the final and compete in the University-wide competition on Tuesday, 13 September in the hope to win the $6,000 prize money.
"I hope to do the UQBS proud and show the rest of the university what the BEL Faculty PhDs are made of," he said.
For more information on the final or to register to attend the event visit: http://www.uq.edu.au/grad-school/three-minute-thesis