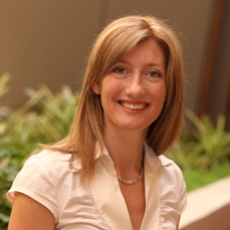 UQ Business School's Senior Lecturer in Management, Dr Nicole Gillespie recently presented in London to launch her report on 'Building and Repairing Organisational Trust' commissioned by the Institute of Business Ethics in London.
The report examined several real cases of trust breakdown and repair and its consequences (e.g. Goldman Sachs, Siemens, Toyota, BP) and why organisations need to know how trust is won, developed and sustained, and what to do when that trust is threatened or has broken down.
Since the beginning of time, business has depended upon trust and goodwill in order for commerce to flourish. It is clearly important that business is conducted in an open and honest manner - otherwise trust is eroded and businesses fail.
The report showed how trust and ethics complement each other, as well as how trustworthiness can be nurtured to support an organisation's resilience and aspirations for an ethical corporate culture, contributing to a powerful business case for paying attention to trust.
It also describes how a trustworthy organisation is one that operates effectively (ability), acts with due concern for the interests of its stakeholders (benevolence), and conducts itself according to principles of honesty and fairness (integrity).
Dr Nicole Gillespie said: "A strong reputation for trustworthiness underpins organisational resilience and authenticity. Such a reputation can provide sustainable competitive advantage because it enables the organisation to attract and retain top talent, establish valuable business partnerships and retain a loyal customer base."
The publication was disseminated to the 90+ corporate members of the Institute of Business Ethics, which includes many large multinationals such as Shell, BP, Nestle, Kraft, L'Oreal, Glaxosmithkline, big consulting firms (PWC, Deloites, Ernst & Young) and banks (Bank of England, UBS, Llyods) etc. The publication was sponsored by PriceWaterhouseCoopers, who are using the report globally in their work with clients.
For more information about the Building and Repairing Organisational Trust report visit http://ibe.org.uk/userfiles/trust_execsumm.pdf.