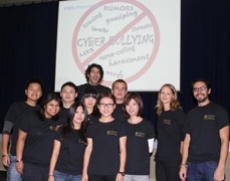 Students from a Brisbane secondary school are learning how to tackle cyber-bullies thanks to a pioneering program developed by students at UQ Business School.
Around 100 pupils from Coorparoo Secondary College have been taking part in the program which includes writing and performing a play, social media and discussion. Pupils watched a live play about a victim who was being taunted on Facebook and were then invited to send comments to a dedicated email address and take part in a workshop to address the issues raised by the play. The project was carried out by UQ Business School students who are taking part in a course to learn how to become social entrepreneurs.
Dr Lance Newey, Senior Lecturer at UQ Business School and Coordinator for the Entrepreneurship and New Ventures course, explained: "Social Entrepreneurship students are required to develop skills at addressing social problems in a way that is entrepreneurial. They need to develop a profitable business model around delivering a social impact strategy. Cyber-bullying was identified as one such social problem".
Research by the Federal Government shows that one in every four schoolchildren is affected by bullying. With the growing use of social media and mobile phones among schoolchildren, online bullying has become commonplace and while most incidents are not serious, in isolated cases it can even lead to suicide.
"The students' approach was very skillful," reported Dr Newey. "They wrote and performed their own play to illustrate the issues, then used social media and a workshop to encourage the children to discuss their thoughts and experiences and learn ways to tackle the problem. The team's use of drama was an innovative and effective way to reach teens at risk of cyber-bullying".
Michael Kalpakidis of Coorparoo Secondary College stated: "The performance was a worthwhile and interesting approach to tackling cyber-bullying that had students interested and engaged."
The cyber-bullying program is one of a number of projects being carried out by Social Entrepreneurship students. Others include projects on human trafficking, research into why some students are attracted to social entrepreneurship versus pure profit businesses, an investigation into the ethical practices of large companies, projects to help disabled people on Bribie Island and homeless people in Brisbane, and providing educational supplies for children in Vanuatu.
Dr Newey added: "Working on real-life projects gives students the opportunity to put their learning into practice, and at the same time provides genuine benefits for the local community."