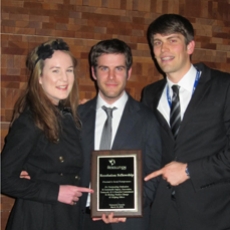 Three students from The University of Queensland have recently been awarded a fellowship with The Resolution Project, a not-for-profit organisation which strives to empower a community of young leaders through collaborative social entrepreneurship.
The fellowship came as a result of the students' success in the 'Resolution Social Venture Challenge' competition at the World Model United Nations Forum, which applauds socially-responsible ventures developed and managed by young leaders world-wide.
The recipients of the 2012 fellowship were Aron Gibbs of UQ Business School, Daniel Gillick of the Faculty of Engineering, Architecture and Information Technology and Victoria Flannery of the Faculty of Social and Behavioural Sciences. This is the first time that a UQ delegation has been represented at the World Model United Nations Forum, held in Vancouver, Canada.
The team was awarded a $3,000 grant which is to be contributed to the development of their original project, 'Total Sanitation'. Total Sanitation is an initiative which, in conjunction with partners Engineers Without Borders and Live And Learn, aims to effectively create and implement innovative technology to combat poor sanitation in rural Cambodia.
Aron Gibbs said: "The Resolution Project has given our team a fantastic starting point from which to make some significant improvements in the heath and lives of the residents of Tonle Sap, Cambodia. We hope to continue our partnerships with the Resolution Project, Engineers Without Borders and the University in order to make an impact on a global scale."
Andrew Griffiths, Dean of UQ Business School, said: "The team's recent success at the WMUN Forum is a great example of student's coming together from multidisciplinary backgrounds, and drawing on each other's strengths to develop a novel initiative with a great social influence. We congratulate the students on their outstanding achievement."
The World Model United Nations Forum, which is facilitated by Harvard University, aims to empower youth to shape a better future under the premises of the United Nations. It is attended by 2,000 young adults of leadership calibre, from internationally-diverse backgrounds.