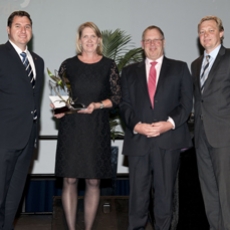 UQ Business School were among the major sponsors of this year's Premier's Sustainability Awards, held on Friday 8 June at Brisbane Convention and Exhibition Centre.
Hosted by Andrew Powell, Minister for Environment and Heritage Protection, the gala awards recognised innovative and successful eco-efficient practices throughout community, business and industry.
Attracting 141 nominations across 11 categories the finalists represented a diverse range of state-wide businesses, schools, individuals, not-for-profit organisations and local governments, all of whom were actively helping reduce the state's carbon footprint and improve business sustainability.
Professor John Cole, Director of the Australian Centre for Sustainable Business and Development at the University of Southern Queensland, was the recipient of the key Premier's Award which recognised his outstanding contribution to promoting and advancing business sustainability in Queensland over the past 30 years.
Andrew Griffiths, Dean of UQ Business School, said: "UQ Business School were honoured to be a part of the Premier's Sustainability Awards, as it demonstrates our commitment to developing sustainable practices through innovation and engagement with surrounding communities."
Kerry Waters, General Manager of Corporate Communications at the Department of Environment and Heritage Protection added: "It was encouraging to see so many sponsors attend the night to host tables of guests eager to hear stories from Queensland's environmental champions. Their support has allowed us to be able to continue to recognise organisations, schools and communities at the forefront of sustainability – a worthy cause indeed."