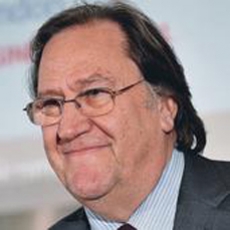 Internationally-renowned innovation expert, Professor Alan Hughes, has been appointed as the Queensland Government Innovator in Residence, based at UQ Business School. Professor Hughes is the Margaret Thatcher Professor of Enterprise Studies at the Judge Business School (UK), Director of the Centre for Business Research at the University of Cambridge, Director of the UK Innovation Research Centre, and a UQ Business School Honorary Professor.
Professor Mark Dodgson, Director of the Technology and Innovation Management Centre at UQ Business School, said: "Through lectures and presentations to government and business, Alan will draw on his world-leading research on issues of great importance to Queensland and Australia, such as: How are small firms encouraged to grow? What can universi/ties and businesses do to better work together? Which government policies encourage innovation? This is a great initiative from the Queensland Government, and we are very pleased that we have attracted such an eminent authority to this important position."
Highlighting the relationship between UQ Business School and the Queensland Government, Professor Hughes will be delivering a high-profiled public lecture entitled, 'The Myth of the Ivory Tower: Universities and the Wealth of the Nation.' This lecture will be held at UQ Business School Executive Venue in the CBD on Tuesday, 24 July.
Professor Hughes was also recently a keynote speaker at the 2012 International Schumpeter Society Conference, hosted by The University of Queensland from 2 – 5 July.
Andrew Griffiths, Dean of UQ Business School said: "We are delighted to welcome Professor Alan Hughes to UQ Business School as the Queensland Government Innovator in Residence. Alan's appointment demonstrates the Queensland Government's commitment to fostering innovative business practices, plus enables us to acquire invaluable first-hand insights from a leading authority in the field. His work will undoubtedly bring significant benefits to UQ Business School."
Professor Hughes has previously provided policy advice and consultancy to influential organisations such as Her Majesty's Treasury, and he is a member of the UK's peak science and technology advisory body. He also has in excess of 200 published works on topics including innovation and financial characteristics of small and medium-sized enterprises and the relationship between law and economics in the analysis of corporate organisation and performance.
If you are interested in attending Professor Hughes' lecture on Tuesday, 24 July please contact Rebekah Lojszczyk, UQ Business School Events Officer, at r.lojszczyk@business.uq.edu.au